David's Law helps students report cyberbullying
Anti-bullying law protects students, moderates conflicts
Hang on for a minute...we're trying to find some more stories you might like.
Freshman Corey Tune was physically and emotionally bullied at his middle school. It didn't stop until a hall monitor caught the bullies.
David's Law, passed in Texas' previous legislative session, would make it easier for individuals such as Tune and those around them to report bullying.
David's Law, named for David Molak, is an anti-bullying and cyberbullying law that allows schools to address off-campus bullying and expel students who engage in serious bullying such as suicide baiting and instigating violence against another student. It requires schools and school districts to provide an anonymous reporting system for its students.
"I think this could've been useful back then, because nobody would know who told the authorities," Tune said.
Before the passage of David's Law, there was no legislation applicable to situations of serious bullying or cyberbullying, making it difficult for many Texas schools to effectively act regarding harassment.
Under this law, school counselors are required to serve as mediators for interpersonal conflict.
"I think mediation is a good idea," junior Cirilo Junior Martinez-Diaz said. "Talking face-to-face with an adult there to make sure things don't get out of hand could be really helpful."
In addition to moderation of conflicts, David's Law allows schools to relocate serious bullies — those who engage in suicide baiting, inciting violence, or the spreading of personal or explicit photographs — to alternative disciplinary education programs. Aggressors in bullying situations could also be charged criminally.
Within this legislation, cyberbullying and serious bullying is considered a Class An misdemeanor, an offense punishable by up to one year in prison.
"We have had numerous school districts reach out to us and tell us that they are fully behind this law," Maurine Molak, mother of David Molak and co-founder of David's Legacy foundation, said. "They are so glad that it passed. They were waiting for something more substantial."
The David's Legacy foundation, created after cyberbullying victim David Molak commited suicide in January of 2016, advocated strongly and aided in the drafting for Senate Bill 179, or David's Law.
Since the law's passage, the organization has expanded its anti-cyberbullying efforts. David's Legacy's website, davidslegacy.org, now includes a pledge for people to take. When you take the pledge, you can request stickers through their website.
"It has a little texting ellipsis bubble on it that signifies a time of waiting, thinking and remembering that there's a soul behind every screen," Molak said. "You never know what kind of a day a person is having when you choose to say something. So always choose kindness."
If a student is or knows someone who is being bullied or cyberbullied, they can find a form to fill out to report bullying at this website: www.austinisd.org/respectforall/reporting
"I wish people were a little bit more observant," Tune said. "No matter what bullying will still happen, but people can at least try to help out more."
About the Photographer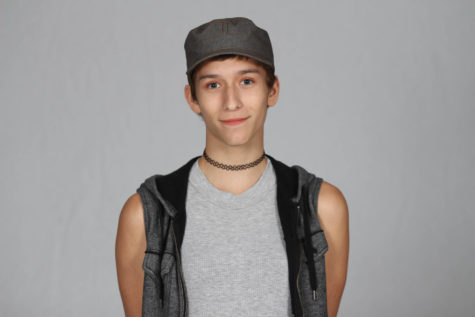 Bee Barto, Editor-in-Chief
Name: Beatrix Barto

Grade: Senior, 12th grade

Academy: New Tech

Year on Staff: Like fourth or something

Title: Editor in Chief

Why they...