Pixar's Coco hits the right notes to honor Mexican culture and traditions
Movie defies critics' low expectations through attention to detail and avoiding cliché stereotypes
Hang on for a minute...we're trying to find some more stories you might like.
Arriving a day before Thanksgiving in the United States, Coco swept the theatres and audience alike in a wind of marigold petals and vibrant colors.
Topping the charts for the third week in a row, Coco continues to move and wow audiences of all ages. Coco truly is unlike any other attempt I have seen to properly portray and capture Mexican culture. From the altares (shrines on the Day of the Dead), the spirit guides, even the infamous chancla.
Coco follows the story of young Miguel Rivera, a boy aspiring to be great musician who sadly lives in a family where all types of music is banned. In a determined quest to find his idol, he ends up in the land of the dead. There he meets with his deceased relatives as well as a skeleton named Hector with no family. Although Miguel is rebelling against his family he comes to appreciate them through his adventures with Hector.
There were people who complained about Coco online before its release, and because of this I initially did not want to see it at first. Disney was accused of ripping off the 2014 movie The Book of Life. Purely from the trailers there was obvious similarities between both. From the marigolds to the guitar carried by both protagonists and the scenes where they cross over to the Land of the Dead. This automatically caused a bias against Coco. After much refusal, I decided to watch Coco. And to be honest I loved it. Coco was nothing like The Book of Life, having only very very minor similarities.
The Book of Life mostly focused on a love interest storyline with a stereotypical which-manly-manwill-win-the-girl plot, as well as it being filled with slightly Mexicanized versions of American songs.
Coco on the other hand had a storyline very heavily based on the importance of family. Aside from its heartwarming storyline, Coco captured the hearts of audience members through its portrayal of Mexican culture. I really appreciated the fact that unlike in other films who merely skimmed the surface of my culture and only worked with the Americanized stereotypes, Coco actually took the time to properly appreciate and depict it. Having an all-Latinx based cast, they really did take the time to learn from the people in Mexico and observe the Day of the Dead festival. The soundtrack for the movie also was incredible. Coco was overall an incredible movie, doing a great job at taking Mexican culture and honoring it rather than just pandering to it with sombreros, matadors and mariachis

About the Writer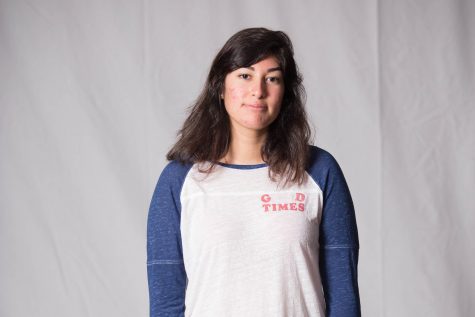 Alejandra Arguello, Staff Writer
Name: Alejandra Arguello

Grade: 11

Academy:New Tech

Year on Staff:First Year

Title: Staff Writer

Why they are on staff? Looked fun

What...