EE Cooks: Mini Strawberry Cheesecake
February is a time to get something special for a special person. If you know that special someone has a sweet-tooth, try using this recipe for a small strawberry cheesecake. The perfect dessert for your perfect partner.
Ingredients
For the Crust
1 cup (120 grams) graham cracker crumbs, about 8 full-sheet graham crackers
3 tablespoons (40 grams) granulated sugar
3 tablespoons (45 grams) butter, melted
For the cheesecake filling:
16 ounces cream cheese softened to room temperature
1/3 cup (75 grams) sour cream, room temperature
1/3 cup (65 grams) granulated sugar
1 teaspoon pure vanilla extract
2 large eggs room temperature
For the strawberry sauce topping:
1 pint fresh strawberries stems removed and sliced (or 2 and 1/4 cups frozen sliced strawberries)
⅓ cup (65 grams) granulated sugar
2 teaspoons fresh lemon juice
Cheesecake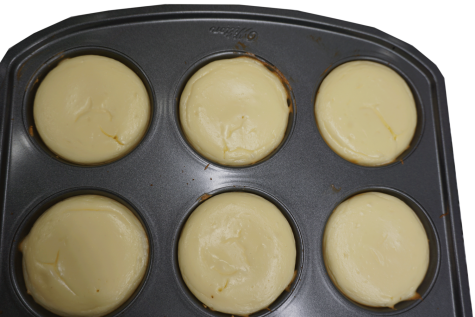 In a large mixing bowl beat cream cheese until smooth. Add sour cream, granulated sugar, vanilla extract, and mix until it's well combined. After, add eggs one at a time and slowly mix everything together.
Evenly distribute the cheesecake filling between the cavities. Bake at 325 degrees for 17-20 minutes or until the top of the cheesecakes are set.
Remove from oven and allow to cool down at room temperature for 1 hour. Remove the cheesecake from the pan to a container and store them in the fridge for 3-4 hours or overnight.
Crust
Preheat oven to 325 degrees

 

and add cupcake liners to the pan, cover with a little bit of butter or baking spray.
Add 8 full sheets of graham crackers to a blender and process until there are no more big pieces of crackers.
Scoop the crumbs into a mixing bowl, add melted butter and sugar, mix everything until it's combined.
After, put it in the pan, making sure to press firmly and bake for 5-6 minutes. When ready, remove and let them cool down.
Strawberry Sauce
In a medium saucepan, stir strawberries, granulated sugar, and lemon juice then place the saucepan over medium heat. Stir occasionally for about 5-8 minutes.
Then slightly reduce heat to low-medium, continue to stir constantly until the mixture thickened, about 15-20 min. Then pour in a heat resistant container and allow to cool completely, then cover tightly and refrigerate.
Once the cheesecakes are chilled, top them with strawberry sauce and enjoy.