Historic flooding results in boil-water notice in Austin
Hang on for a minute...we're trying to find some more stories you might like.
Akins students and staff adjusted to life without clean water running from the taps for a week after the City of Austin endured a citywide boil-water notice.
Shortly after school began on Monday, Oct. 22, the student body received a shock when they heard Associate Principal Manuel Garcia announce over the intercom that the drinking water on campus wasn't safe to drink.
The first announcement was short on detail, but Garcia said that the administration was working on a plan to handle the situation. A little after 10 a.m. Garcia came back on and established the plan to keep cases of water bottles in each classroom.
Students expressed confusion to their teachers about why the water was suddenly unsafe, making some teachers have to stop their regularly planned lessons to explain the cause of the situation.
The situation was caused when city officials determined that the Austin water treatment plant was not able to keep up with demand after flooding upstream clogged the system with silt and debris.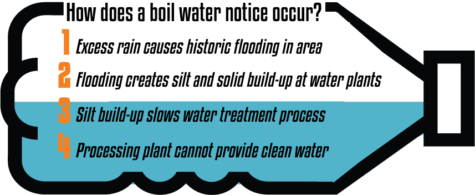 Cities typically issue boil-water notices when they worry that the water in the system could have higher levels of bacteria than what they deem to be safe. The impact on students at a school was mostly minor inconveniences: students could not use hallway drinking fountains and were told to use hand sanitizer instead of tap water in the bathrooms.
Some students have actually enjoyed having so much access to free bottled water while on school instead of having to go into the hall to find a drinking fountain.
"I think it's convenient so kids don't have to be asking their teachers every (second)," junior Megan Rodriguez said.
It also made other food preparation difficult at restaurants that used water to clean fresh vegetables or make coffee or fountain drinks.
Sophomore Yarina Chavez said that it has been annoying trying to get certain drinks or food at restaurants since the water boil notice because restaurants menus have been limited because of the water notice.
"It's kind of frustrating. I've been wanting to order my favorite drinks and food and sometimes I can't," Chavez said.
Besides dealing with water problems at school, some of the more severe effects of the boil-water notice were experienced at home. Families had to buy bottled water or spend time boiling lots of tap water and letting it cool to prepare food, brush their teeth and take care of other basic hygiene tasks.
"I'm smart enough not to drink the water, but sometimes like I forget when I brush my teeth," Rodriguez said.
Chavez said she thinks the week-long boil-water notice was mostly a minor inconvenience for Austin residents. She said a positive impact of the water shortage could be to help raise awareness of the conditions that people in other countries without modern water treatment systems endure on a daily basis.
"If you put yourself in someone else's shoes outside of our country, they don't have water like we do every day," Chavez said.
Green Tech Assistant Principal Ernesto Wallace said he is thankful for the community support Akins received in the form of donations of bottled water. Wallace said the water shortage reminded him of the conditions he experienced in his youth in Panama.
"It wasn't stressful, because it took me back to where I grew up," he said. "We had a lot of situations like that since it rained so much there," Wallace said.

About the Writer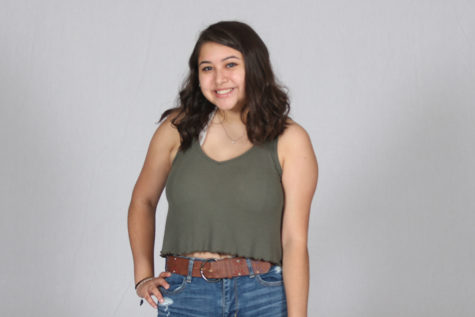 Samantha Salazar, Staff Writer
Name: Samantha Salazar
Grade: 11
Academy: New Tech
Year on Staff: 2
Title: Staff Writer
Why they are on staff? : I like to write.
What do you do...