Campus community finds ways to honor Garcia-Mata
This summer, the Akins community went through a devastating loss when the news hit that Christina Garcia-Mata, former GTA coordinator, passed tragically in a hiking accident.
Akins Early College High School held a memorial service for her and many of the Akins community came to pay their respects. Garcia-Mata, who had taught at Akins since 2006, was loved by her students, fellow teachers, and staff.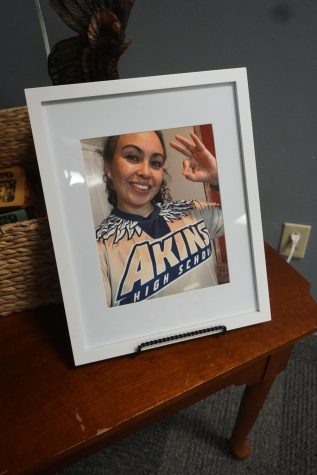 "She was the best of us," said Stephanie Matthews, an English teacher and academy coordinator who worked closely with Garcia-Mata.
Matthews said there was a big desire to honor her around the school during the current school year. A photograph of her is in the front office and "1LOVE" posters have been hung in all classrooms, featuring a new set of campus norms that were inspired by her.
The idea for 1LOVE started during an Akins campus-leadership team retreat, where Akins' staff team came together to create a list of expectations for the incoming 2021-2022 school year. Akins was also thinking of other ways to honor Garcia-Mata and that's where Annette Gutierrez, former College and Career Counselor, came up with the idea of using 1LOVE in remembrance of Garcia-Mata because "it's what she stood for," said Matthews.
Matthews expressed that the whole leadership team, "felt connected to that (idea) and loved the idea." From there, they were able to adapt the campus norms to fit the 1LOVE message.
The purpose of 1LOVE is to, "unify as a campus, coming off of what was obviously a tough year," Matthews said.
Garcia-Mata was loved by everyone on campus and left a lasting impression on a lot of people, including Head Football Coach Joey Saxe. Saxe met Garcia-Mata eight years ago when they created the SEL program at Akins. She would also go to sporting events to support the students and coaches. She made an impact on him and everyone around her, therefore he also wanted to do something to pay tribute to her.
"
She was the best of us."
— Stephanie Matthews, New Tech Academy Coordinator
Over the summer, a new design was made for the football helmets. The standard Akins eagle logo was replaced with wings that were inspired by a custom Akins jersey that Garcia-Mata often wore when she attended football games. Along with the wings, her initials were added to the helmets in green to represent the Green Tech Academy for which she served as the academy coordinator.
Many teachers and staff members are following the 1LOVE norms at school and find it not only useful for classroom norms. but also comforting in regards to letting her spirit live on at Akins.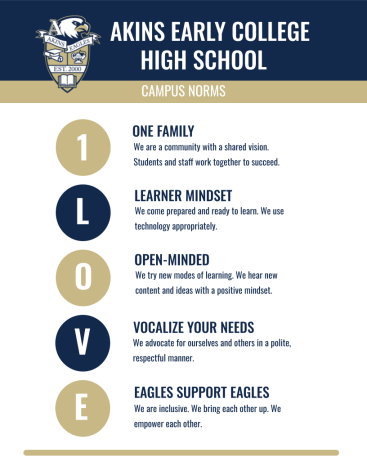 Teresa Grumbles, who worked closely with Garcia-Mata in the AVID program, said she was happy to see the campus honor her with the 1LOVE campus norms poster. "I want to carry that tradition on for my AVID students and I want to make her proud of the direction the AVID program is going, it's the biggest in the history of our school," she said.
French teacher Gina Garcia also had a strong relationship with Garcia-Mata. They met each other on their first day of work at Akins and had an immediate connection due to the fact that they were also both from El Paso. Garcia shared a memory of what happened when she found out about her passing.
"I got in the car and I turned on the radio and guess what? The song was One Love [by Bob Marley] and I know that that's how she signed off on all of her emails, One Love and I knew OK, she's sending me a sign," she said.
Leave a Comment
About the Contributor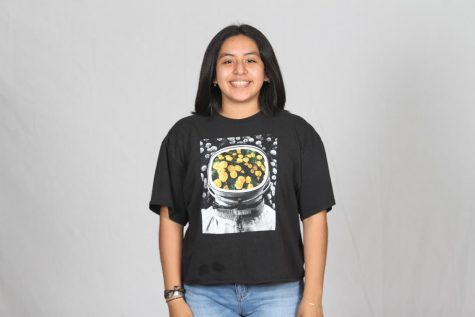 Alondra Mondragon-Rodriguez, Life & Style Co-Editor
Grade: 12th
Academy: GTA
Number of Years on Staff: 3
Title: Life & Style Co-Editor
Why do you enjoy being on staff?
I enjoy being on the staff team because I'm able to be aware of current events and by being part of the Eagle's Eye I'm leaving a mark of myself at Akins.
What do you do for fun?
For fun, I spend time with my family and friends.
What are your hobbies?
I enjoy dancing Ballet Folklorico
Hopes & Dreams after high school?
I hope to stay happy after high school and travel as much as I can.
Hidden Talent (optional): Surprisingly above-average flexible