WrestleMania brings drama, spectacle for Texas fans
Every year the WWE (World Wrestling Entertainment) holds its biggest annual event, WrestleMania, and this year it was in the Dallas area at the AT&T Stadium in front of 156,352 fans over two days.
For those not in the loop, these two-day WrestleMania events are deemed by fans to be the Super Bowls of wrestling. In fact, it has just been revealed that WrestleMania was able to beat this year's Super Bowl (LVI) in social media statistics such as engagement, impressions, and video views and watch time.
The event is now in its 38th year and is the WWE's biggest show, bringing in fans from all over the world to come together to spectate and participate in "the showcase of immortals."
This year marks the fourth year WrestleMania has taken place in Texas, and it's the first year in Texas since the pandemic.
In 2020 WrestleMania 36 was held in the WWE's Performance Center in Orlando with no audience due to the pandemic. In 2021, fans saw the return of an in-person audience with a limited-capacity crowd present in Tampa Bay with a total of 40,806 in attendance across both nights.
This year's Mania brought back a full capacity crowd that broke the 2016 record, for the highest recorded attendance; setting a new record of 101,763 in attendance as reported by the WWE.
WrestleMania, as well as all of WWE's premium live events, can be streamed with a premium subscription on Peacock, the WWE Network's new home after a streaming deal with NBCUniversal.
WrestleMania has been built off the back of celebrities since the beginning. With a long list including the likes of Cyndi Lauper, Mr. T, Muhammad Ali, Bad Bunny, Snoop Dogg, and Rob Gronkowski, celebrities have always been a staple at Mania events. This year was no exception. They had country stars Bradley Gilbert and Jessie James who each performed "America the Beautiful" across both nights of WrestleMania. DJ Valentino Khan performed both nights, as well before the show started while the audience was still filling up.
The Dallas Cowboys Cheerleaders were also present in opening WrestleMania with an opening cheer routine.
The first night of in-ring action featured social media celebrity Logan Paul teaming up with The Miz to take on WWE legend Rey Mysterio and his son Dominik. Night two featured Jackass star Johnny Knoxville who faced off against Sami Zayn in an "Anything Goes" match. Pat McAfee, a former NFL punter for the Indianapolis Colts turned color commentator and professional wrestler, went one-on-one against the up-and-coming star Austin Theory.
WrestleMania is also known for its historic moments such as Hulk Hogan body slamming Andre the Giant at WrestleMania III, Brock Lesnar ending the 21 year undefeated WrestleMania streak of The Undertaker at WrestleMania XXX, and the retirements of legends such as Shawn Michaels, Ric Flair, 'Stone Cold' Steve Austin, Batista and The Undertaker.
Now, without further ado, as famously said by Vince McMahon to open the second ever WrestleMania; "Welcome to the greatest sports-entertainment spectacular of all time. Welcome to WrestleMania!"
I had the fortunate opportunity to attend live in person for both nights; so let's break down night one, WrestleMania Saturday. 
Night One Breakdown
While on my way to AT&T Stadium there were thousands of fans waiting for the doors to open. There were people wearing shirts of their favorite WWE Superstars and replica title belts. Some fans even wore costumes of wrestlers from all generations such as Sting, Roddy Piper, Naomi, and (my favorite wrestler) 'Macho Man' Randy Savage . Once I got inside the stadium I was greeted by merchandise tables, food vendors, and DJ Valentino Khan performing from the stadium floor.
Titus O'Neil, the Global Ambassador for the WWE and WWE Superstar detailed six local charities to which the WWE would be contributing. The show then got underway with a video package hyping the event hosted by Mark Wahlberg. 
Country music star Bradley Gilbert performed America the Beautiful to open the show. Once his performance concluded, the WrestleMania stage erupted with pyrotechnics welcoming the fans. 
The first match to open the show was Shinsuke Nakamura and Rick Boogs challenging The Usos (Jimmy Uso and Jey Uso) for the SmackDown Tag-Team Championships.
The match consisted of great ring-splitting by The Usos to keep Nakamura from tagging in his partner and to keep wearing him down. Once Shinsuke got the tag for his partner Rick Boogs to become the legal man, Boogs was able to use his size and strength to overpower the Usos. Boogs then went to pick up both Usos to set up a spot but collapsed once he got both up, Boogs crawled to tag in Nakamura. Boogs was out for the rest of the match. With the match now a two-on-one scenario The Usos were able to take advantage and successfully retain their Tag Team Championship titles.
It would be revealed later in the night that Rick Boogs had sustained an injury while picking The Usos up. Boogs suffered from a torn quadricep and a torn patella tendon. He is expected to be on the shelf for 6-12 months. The match looked good on paper but unfortunately the injury caused an abrupt end and fast finish.
The next match on the card was Drew McIntyre versus Happy Corbin with Madcap Moss. Drew McIntyre became the first Superstar to kick out of Happy Corbin's "End of Days" finisher.
McIntyre came out on top,  and by the end found himself using his sword to cut through two of the three ring ropes while fending off Madcap Moss.
I was anticipating for Corbin to come out the winner due to his finisher always able to put away matches. Once McIntyre became the first person to ever kick out of the End of Days however, I knew McIntyre would end up being the one with his hand raised.
Third on the card was the tag-team match between Rey Mysterio and his son Dominik taking on The Miz and social media celebrity Logan Paul.
This was a fun match to watch; especially being live in person because being surrounded by the whole arena booing Logan was so satisfying to hear.
Honestly, Paul put on a good performance. He did a great job at keeping the audience engaged and at playing a heel (villain) by mocking the late-great Eddie Guerrero, who was family to the Mysterios, by hitting his 'Three Amigos' move and his signature taunt. The Miz and Paul would get the win over the Mysterios but during their celebration, The Miz would turn on Logan Paul and hit his "Skull Crushing Finale" finisher and leave Logan in the ring.
During intermission, Stephanie McMahon, CBO of the WWE brought out Gable Steveson, a two-time winner of the Dan Hodge Trophy, which is awarded each year to the best college wrestler in the United States. After winning an NCAA title in March 2021 and then a gold medal in August at the Tokyo 2020 Olympic Games, Steveson joined the WWE while still defending his NCAA title. 
Gable has a lot of potential in the WWE; however there is controversy that surrounds him with a public accusation of rape. The case was dismissed and didn't go to trial.
Fourth on the card was the match between Bianca Belair and Becky Lynch for her RAW Women's Championship. The Texas Southern University marching band played an instrumental version of Bianca's theme music as she made her way to the ring.
This match was my favorite match of the night. The athleticism and story-telling showed the veteran Becky Lynch get pushed to her limit. The match started hot with both wrestlers trying to put the match away early. 
Last year Belair defeated Sasha Banks for her SmackDown Women's Championship only to have it quickly taken away after Becky Lynch returned at SummerSlam from maternity leave, ending Belair's title reign in 26 seconds.
The start to the match was explosive as both women went for big moves to put away the match early. After a long and hard fought battle, Belair was successful in defeating Lynch, becoming the new RAW Women's Champion.
The next match was one I have been looking the most forward to, Seth Rollins versus a mystery opponent of Vince McMahon's choosing. After a choir aided in Seths entrance to the ring wearing beautiful WrestleMania gear, Seth would await to find out who his opponent would be.
Rumors for potential opponents were The Undertaker, Shane McMahon, Goldberg, Vince McMahon himself, and the one I most wanted to be true: "The American Nightmare" Cody Rhodes.
After a few seconds of silence building suspense, Cody's theme music would hit and I would be screaming my lungs out shouting his name. Cody has officially become the first star from competition company AEW to jump ship to WWE.
After a banger of a match, Cody defeated Rollins, while simultaneously creating a big impact. "The American Nightmare" has arrived.
The next match was former UFC fighter 'Rowdy' Ronda Rousey challenging Charlotte Flair, daughter of WWE legend and Hall of Famer, 'The Nature Boy' Ric Flair.
The match itself was alright. Nothing too special but it was entertaining nonetheless. Some good back and forth action between the two but after the ref was taken out on accident by Charlotte, Ronda made Charlotte tap out, but there was no one there to make the call. Ronda picked the ref back up which allows Charlotte to get a cheap shot on Ronda, which lead Charlotte to retain.
The main event of the night was a special "WrestleMania main event" episode of the KO Show which is an in-ring talk show hosted by WWE Star, Kevin Owens. His guest was none other than "Stone Cold" Steve Austin.
Kevin Owens would take his time disrespecting Texas and Stone Cold to gain heat (a negative reaction) from the audience. 
In the middle of his sentence the iconic glass shatter would sound off and Stone Cold made his way to the ring until he went backstage and came back riding an ATV.
Once Austin was in the ring he would destroy Kevin Owens' set which would lead to more trash talk from Owens, who then went on to challenge Austin to a "No Holds Barred" match. This match allowed the competitors to do whatever they wanted to do to  each other without repercussions.
Austin shined brighter than he ever had that night, raising hell the same way he used to 19 years ago. Austin would pick up the win and celebrate the only way he knew how and the only way we wanted him to, drinking beer.
This match had everybody on their feet and left everyone with more energy than they had when they entered. This night alone made every penny worth it and my favorite in-person WWE event yet.
That's how night one of WrestleMania would wrap up; a great night that only got better and better as the show went on. Night two is now just under 24 hours away.
Night Two Breakdown
To kick off night two and welcome everyone to WrestleMania Sunday, Triple H, the COO of WWE made his way to the ring to do just that. Triple H then left his boots in the ring to make his retirement, which was announced a few days prior during an interview with Stephen A. Smith on First Take, officially set in stone.
The opening match was a triple-threat tag-team match for the RAW Tag-Team Championships between the Street Profits (Angelo Dawkins and Montez Ford), Alpha Academy (Chad Gable and Otis), and the champions going in R-K-Bro (Matt Riddle and Randy Orton). A great fast-paced match with captivating spots. R-K-Bro would retain their Tag-Team titles after Riddle and Orton both hit RKOs to pull off the win.
Gable Steveson was watching ringside and joined R-K-Bro as well as the Street Profits in the ring to celebrate. Chad Gable from the Alpha Academy would enter the ring frustrated over the loss and get in everyone's face until Gable suplexed Chad sending him across the ring to the outside.
Bobby Lashley faced Omos and shortly after, we would see a fun match between Sami Zayn and Johnny Knoxville in an 'Anything Goes' match. During the match, other Jackass stars such as Chis Pontius (bringing out his 'Party Boy' character), Wee Man, Jasper Dolphin and Compston Wilson would all find a way to get involved as well.
For the women's match, there was a fatal-fourway for the Women's Tag-Team Championships between the teams of the champions Queen Zelina and Carmella, Sasha Banks and Naomi, Rhea Ripley and Liv Morgan, and Natalya and Shayna Baszler.
Edge and AJ Styles would have their long-awaited dream match which allowed Edge to show his new darker side but things got interesting as WWE Superstar Damian Priest would join forces with Edge towards the end of the match to build a new stable.
The New Day (King Xavier and Kofi Kingston) faced off against Sheamus and Ridge Holland in a tag-team match which was the shortest match across both nights at just one minute and 40 seconds.
Pat MacAfee faced off against Vince McMahon's prodigue Austin Theory in a great WWE debut for Pat. His athleticism showed off and we got a pretty good and entertaining match out of it. 
The real entertainment came after the match when Vince McMahon, who was watching at ringside ripped off his shirt, got in the ring, and faced Pat himself. In remnants of the WWE's Attitude Era; Steve Austin came down to the ring, shared a drink with McMahon then delivered stunners to Vince, Austin, Pat, and color commentator Byron Saxton after the match.
To end night two and WrestleMania 38 entirely, we would have our main event branded as, "The Biggest WrestleMania Match of All Time" as the Universal Champion, Roman Reigns went one-on-one against World Heavyweight Champion, Brock Lesnar in a winner take all, title unification match.
The main event didn't live up to most fans' expectations with an anticlimactic end to a heated, long-running feud, but was still not a bad way to end the show.
Leave a Comment
Donate to The Eagle's Eye
Your donation will support the student journalists of Akins High School. Your contribution will allow us to purchase equipment and cover our annual website hosting costs.
About the Contributor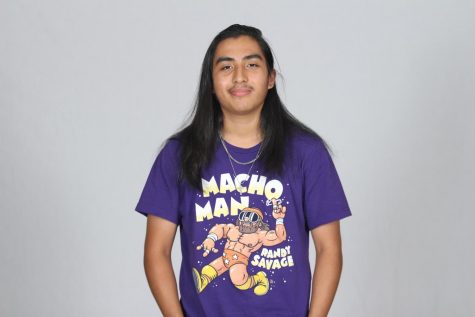 Adriel Medrano, Staff Writer
Grade: 12

Academy: STEM

Number of Years on Staff: This is my first year.

Why do you enjoy being on staff? Being able to research and share topics I'm interested in.

What do you do for fun? Guitar, piano, skateboarding, video games, and pro wrestling.

What are your hobbies? Collecting various items, primarily pro wrestling.

Hopes & Dreams after high school? Begin training to become a pro wrestler.