"Pig Kissing" a highlight of Blue and Gold night
Hang on for a minute...we're trying to find some more stories you might like.
Walking through haunted hallways, dancing to Gangnam Style, and Principal Daniel Girard kissing a pig; those are just a few highlights that were featured last night at the annual Blue and Gold night.
"My favorite part was Principal Girard kissing the pig," junior Nick Rodriguez said. "The pig was so nasty and to see him kiss it was hilarious."
Class of 2013 hosted the Kiss the Pig booth and let Blue and Gold Night attendees vote on who would kiss the pig and by a landslide vote Principal Girard won.
"It was definitely a contest that Principal Girard did not want to win," senior Billy Ferren said. "He was a good sport and puckered up for the pig."
The haunted house, always a popular booth, took place in the band hallway and had a great turnout.
"The line for the haunted house took forever but it was so worth it once we went inside," Akins alumni Chris Aguayo said. "The haunted house was my favorite event when I went to school here and still is."
Blue and Gold Night provided a variety of different food booths last night. Latinas Unidos! sold tostadas, the baseball team sold funnel cakes, and many different clubs and organizations sold various foods and drinks such as hamburgers and hotdogs, Takis, snow cones, brownies, and root beer floats.
"The tostadas were really good and the brownies from the Yearbook booth were pretty delicious too," senior Gina Gonzalez said.
The night ended with the DJ playing Gangnam Style by PSY. Students and attendees rushed to the middle of the courtyard to join in on the popular dance.
"Everybody went wild and started to do the dance to Gangnam style," junior Christian Hernandez said. "The whole circle in the courtyard was getting groovy. My friends and I had a really fun time."

About the Writer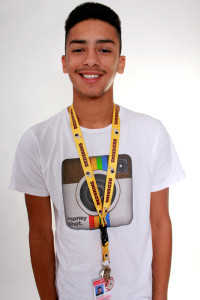 Dez Moore, Editor-in-Chief
I'm Dez Moore.
I am currently a senior and this is my second year on the Eagle's Eye staff. This year I was chosen to be the Editor-in-Chief. I'm...