Canstruction wins first place during annual competition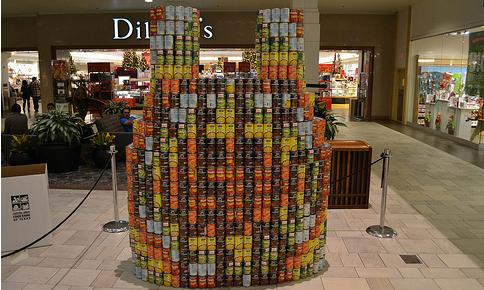 While collecting canned goods is a common type of holiday giving, students participating in Canstruction put a new twist on the tradition.
Canstruction is a new project that students at Akins participated in for the first time and came out a winner. The students on the Canstruction team competed against Anderson High School, the University of Texas, and some engineering companies to collect as many cans to donate to the Capital Area Food Bank of Texas.
"Canstruction is about bringing awareness to the homeless who can't even afford a decent meal," senior Corrina Benavides said.
In the beginning, the students at Akins weren't donating enough cans. So the Canstruction team came up with another solution.
"We went to various community's around Austin, asking the house owners if they would like to donate," senior Fabian Jimenez said.
The Canstruction needed certain colored wrappers to create the sculpture so they requested certain types of canned goods. However, they accepted all types of cans that were eventually donated to the food bank.
Their final design was a tie-dyed tank top that said "Keep Austin Fed." The students ended up winning "Best High School Entry" in the competition.
The team had received a $500 donation from someone who was anonymous to buy more cans so that they can win the competition.
"The $500 donation helped out a lot because the fundraising was a bit daunting at first," said Kena Pierce, faculty sponsor of the Canstruction club at Akins. "In the end, I was proud of the students for all the work and effort they put in."
"I was surprised we won because it was hard getting cans," senior Corrina Benavides said. "We were getting only a little so it really worried us at the beginning."
The Canstruction team will begin selling Girl Scout Cookies in January 2014 for preparation for next year's competition.