Band and orchestra students earn statewide recognition
Hang on for a minute...we're trying to find some more stories you might like.
The spring semester brings on competition season for students involved in Fine Arts programs at Akins.
Students rehearse and train for hours at a time, working to perfect their skills for University Interscholastic League competition performances. This year band and orchestra students have already walked away with a few awards that have earned them a spot in Akins history.
Senior Mauricio Orellana became the first student in 10 years to advance to the Texas Music Educator Association All-State band competition.
"It was a surreal moment that I've been waiting for a long time," Orellana said.
Orellana has been playing the clarinet since sixth grade and put in a lot of practice leading up to his competition day.
"I would practice an hour in the morning, an hour during the day and an hour before (I go to) sleep so basically three hours a day," Orellana said.
Orellana performed three French etudes, which are pieces for one instrument that demonstrate mastery of a skill.
"It was just taking the time and the hours to sit down and learn the music and actually practice," Orellana said.
Freshman Edan Tapia-Lugo also accomplished something big, becoming the youngest player in the orchestra program's history to qualify for state solo and ensemble.
Tapia-Lugo has been playing classical guitar for three years now and said this was his first time going into the competition and receiving a No. 1 rating.
"I practiced roughly an hour a day to make sure I got my piece down," Tapia-Lugo said.
He attributed some of his success to orchestra teacher Thomas Mann and his friends for giving him confidence in himself.
Tapia-Lugo took the title of the youngest qualifier from junior Enrique Ruiz. However, Ruiz claimed another title becoming the youngest to receive the Best Division distinction, which is the best possible score in the competition.
Ruiz has played guitar for seven years and focused on being mentally prepared going into the competition. Ruiz said no matter what he knew he did his best.
"I wasn't extremely surprised because I knew I was either going to do the best I could or just come really close to doing really well," Ruiz said.

About the Photographer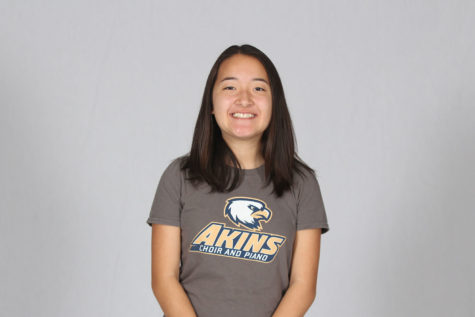 Arianna Farner, Social Media Manager/Staff Writer
Name: Arianna Farner
Grade: 12
Academy: ABLLE
Year on Staff: 1
Title: Social Media Manager, staff writer
Why they are on staff?: Developing my professional...