Students choose between online, in person classes
This school year, students and families have been forced to make the difficult decision of choosing the best learning environment for them — often pitting their own safety against their academic needs.
Since October, students were allowed to choose whether they wanted to return to campus to take classes although face-to-face learning with teachers and students in the same room wasn't allowed until Nov. 2. Since then relatively few students have chosen to come to campus to take in-person classes with only about 200 students on campus, which normally has about 2,700 students before COVID-19 forced many into virtual learning.
Students and teachers have debated about the benefits and risks of online and in-person classes all semester with everyone making personal calculations on what is best for them. Akins teachers have also expressed concerns about decisions to open schools because of the rising numbers of COVID-19 cases across the country. 
"The changes in schedules and the toll on mental and physical health has been even harder for students, teachers and parents," English teacher Alex Vasquez said.
She said that it is not easy to create a plan that will satisfy everyone's concerns, but she does appreciate the safety measures that the school has put into place for students and teachers, including the health screening stations and an alternating hybrid schedule that reduces the number of students on campus at any given time.
"That brings a lot of comfort to all of us, but nothing would be better than our community and country coming together to help end this pandemic sooner by using masks," Vasquez said.
Although it is dangerous for students to come in person, it is vital for the academic success of many. Some students need access to increased in-person support due to a learning disability or mental health issues, inability to access online school for home, or being weighed down with family responsibilities.
Sophomore Judith Jimenez said online school has left her feeling more tired than normal because she doesn't have the regular school day routine anymore.
"It has also made me less active and social because now it is harder to make friends through online learning because it is something that no one is comfortable with," she said.
Junior Karen Vazquez said the lack of social pressure that students experience with in-person classes has been a problem for her. She said she misses the pressure of having to communicate with other students and the teacher, which is limited during virtual classes on Zoom.
"My grades have not been good since I have been online," Junior Karen Vazquez said. "I had said it is because I do not feel the same responsibility as I do in the classroom because during online school I do not have an actual teacher and just being at home can make me really distracted." 
Teachers can really be the key for students to do their work and to pay attention in classes. But now that everything is behind a screen, they do not have all the control and that can really be a problem for students and a barrier for teachers.
Junior Vanessa Vasquez said she prefers to stay at home now because it is safer, but that being online only has affected her grades negatively because she has missing assignments.
"I also have to take care of my nieces, so I have less time to do my work," she said.
There is no one that can guarantee that students will not get sick from attending in-person classes. Not everyone has the same option to pick on which way they want to be taught. It can depend on their parents or even on their normal activities like clubs, sports, or having the opportunity to have a tutorial face to face with the teachers.
Sophomore Iris Guillen said she thinks in-person school is better because she can see everyone's face and it forces students to speak and participate.
"But in online classes, all the students just stay quiet and do not participate which makes me feel bad for the teachers because they are working hard for us," she said.
The online school system has converted into something habitual or normal for some students and teachers. For others, it has been a barrier or just something that brings the pressure. Many of these students are deciding to go back to school because that is the only way they can learn and increase their grades.
"In typical times, many students appear to be struggling with getting the motivation to be in online learning". Junior Valeria Anzures said. "Especially where the relationship among teachers and students are not well developed and where success requires to manage time and be an independent learner."
Districts are feeling extreme pressure as educators, as student's struggles become more clear and worrying, parents and teachers are more determined to get students back to school. Some people are letting their fear and worries to the side from health risks and towards the risks of students not learning at all.
Leave a Comment
Donate to The Eagle's Eye
Your donation will support the student journalists of Akins High School. Your contribution will allow us to purchase equipment and cover our annual website hosting costs.
About the Contributor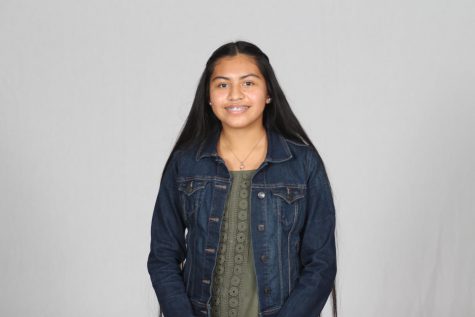 Natalia Estrada, Editor
Grade:12

Academy: New Tech

Number of Years on Staff:3

Why do you enjoy being on staff? I like to help other people as well to inform and I always learn new skills for journalism/Graphic design

What do you do for fun?- I like to go out and play games with my friends, eat some dessert and mostly watch a movie

What are your hobbies?- I love to dance Baile Folklorico, do 3-D art/ Painting, sing, and playing the piano.

Hopes & Dreams after high school?- My dream is to get into college here in Texas, study something related to forensics and then go to a University.  Also to have my own Jewelry business.

Hidden Talent (optional): I create my own Jewelry