Austin provides incentives to recruit more lifeguards
A shortage of lifeguards could keep some City of Austin swimming pools closed this summer if they aren't able to recruit and train enough before school gets out in late May.
The shortage in lifeguards was worsened by the COVID-19 pandemic, which caused many swimming pools to close because of staffing issues.
According to an article by KXAN it takes about 650 lifeguards to keep all of the city's pools open. In the article, Aaron Levine, Austin Parks and Recreation aquatics supervisor, said that in 2019, the city had about 850 lifeguards. But after the pandemic struck the world, the city's supply of lifeguards shrunk to about 550, forcing the city to close pools for more days out of the week and cutting hours of operation.
Austin has been trying to combat this issue by creating many incentives and benefits for certified and eligible lifeguards, including the opportunity to earn $1,250 in bonuses over the summer season if they meet certain conditions like working throughout the entire season.
Many eyes have caught the shortage of lifeguards, our own school, Akins, being one. The Akins Swim ATX Lifeguard program started in the spring of 2020 and is run by Jery De la Huerta.
The Akins Swim program helps students learn the fundamentals of being a lifeguard by teaching the necessary and required swimming techniques as well as how to perform CPR and proper first aid to save people from drowning.
Students can benefit from the program by receiving their physical education credit, lifeguard certification, and even job opportunities as a lifeguard over the summer through the YMCA and the city of Austin. Students also get the opportunity to travel to the Big Stacy Pool at Travis Heights during the school day.
De la Huerta said he hopes the Akins swim program will help contribute to the effort to keep Austin city pools open. Akins students will take their certification tests this week.
Senior Divad Azuara said the swim program has offered him a lot of benefits.
"You get the certification to be a lifeguard and you basically have like a guaranteed job," he said.
De la Huerta said one of the biggest issues that the swim program focuses on is boosting students' swimming abilities and confidence.
"It's more of the kids not wanting to join because they're scared because they don't know how to swim or they're insecure themselves on wanting to join the class period," he said.
Azuara said students should not let them stop them from joining the program.
"It's a judgment free zone and you're just there to swim basically," he said.
Leave a Comment
Donate to The Eagle's Eye
Your donation will support the student journalists of Akins High School. Your contribution will allow us to purchase equipment and cover our annual website hosting costs.
About the Contributor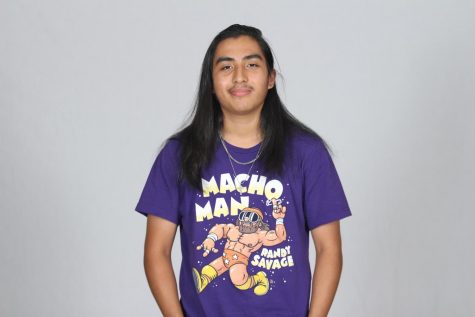 Adriel Medrano, Staff Writer
Grade: 12

Academy: STEM

Number of Years on Staff: This is my first year.

Why do you enjoy being on staff? Being able to research and share topics I'm interested in.

What do you do for fun? Guitar, piano, skateboarding, video games, and pro wrestling.

What are your hobbies? Collecting various items, primarily pro wrestling.

Hopes & Dreams after high school? Begin training to become a pro wrestler.