CM Punk Returns After 7 Years
August 20, 2021, marks the day that the wrestling world changed forever when ex-WWE star CM Punk made his debut in the new rival brand All Elite Wrestling (AEW). In his hometown of Chicago, in front of a sold-out crowd, Punk made his long-awaited return to pro wrestling, seven years after he left the WWE. Punk's debut would change the wrestling world forever as AEW is becoming big trouble to the already struggling WWE.
On AEW: Rampage titled 'The First Dance' in reference to 'The Last Dance' documentary of Michael Jordan, another Chicago icon, CM Punk made his triumphal return to pro wrestling and shocking debut in AEW.
With Punk leaving the WWE in 2014 everybody thought he either would've stayed retired or returned to the WWE.
Punk's debut made shockwaves across the wrestling community, on the night of his return he crashed AEW's merchandise website as thousands of eager fans were wanting to get their hands on his merchandise which in less than a month, his shirt design (which I have bought) has sold more than 100,000 units.
With all of the buzz and eyes, Punk has managed to get on AEW; a question to be asked is how exactly did we get here?
Before leaving the WWE which was Punk's home for eight years CM Punk was having many issues pushing him away from the company.
One of the main reasons for Punk's departure was the fact that he always had the momentum, fans, draw, as well as skill in the ring and on the mic to main event WrestleMania, yet management never gave him the opportunity to. The part that stung the most was that he had to drop his WWE Championship (which ended his 434-day reign ) to a returning, part-timer, Dwayne "The Rock" Johnson at the Royal Rumble pay-per-view ahead of WrestleMania 29 in 2013. On top of that, more towards the end of his WWE days, during the 2014 Royal Rumble match CM Punk would end up suffering a concussion.
Due to the concussion and many other grievances, Punk came to the consensus that he was "No longer in love with what he did" and voiced his frustrations to WWE's chairman, Vince McMahon, and WWE's COO, Paul Levesque (Triple H). Punk would then go home to rest, and on his wedding day would receive the letter which stated that he had been released from his WWE contract.
After his departure Punk began his next ventures in life. Most notably CM Punk began a career in the UFC. Punk's first bout was against Mikey Gall on Sept. 10, 2016, which Punk lost via submission. Punk had one more UFC bout before retiring where he faced Mike Jackson on June 9, 2018, which Punk initially lost as well but has since been overturned into a no contest.
Punk wouldn't be done with MMA yet, as he signed with Cage Fury Fighting Championship (CFFC) as a color commentator in 2018 and currently is still signed and commentating.
In 2019 Punk made his film debut in the movie Girl on the Third Floor as well as Rabid both releasing in 2019. Recently Punk has acted in the film Jakob's Wife which came out in April of 2021 and currently is acting in a show titled Heels, a show about pro wrestling.
In November of 2019 CM Punk debuted in WWE's talk show Backstage which led many fans to expect him to go back to the WWE, however that would not be the case.
Now that we have Punk's journey recapped, let's dive into his return.
As AEW: Rampage would start the live broadcast, viewers were greeted by a roaring sold-out Chicago audience filled with CM Punk signs and all in attendance chanting "CM PUNK!" as loud as they could which showed just how excited they were, as was I watching from home. As the camera crew was filming the crowd, Punk's entrance music from WWE and UFC "Cult of Personality" by Living Colour would play and the crowd would erupt in a deafening roar from hearing the iconic theme.
This was perfect in my book because if Punk came out to any other music it wouldn't have had anywhere near the same impact and having him come out immediately would've prevented every single second of the show be muted by fans anticipating Punk's return.
Punk would then walk out the entranceway and sit in the middle of it to take in the emotional moment. Once Punk got in the ring he got on a microphone and spoke to the crowd apologizing for his absence and that now he was fully committed for his return. Punk then announced what his future would hold for him, which was a return one-on-one match against the young, up-and-coming star Darby Allin at their upcoming pay-per-view: "All Out".
Come All Out (which was also in Chicago), CM Punk and Darby Allin were face-to-face in the ring waiting for the bell. Once that bell rang, Punk proved to everybody that even despite his 7-year absence he was still "The Best in the World" as he was able to overcome Darby in an absolutely outstanding match that had all the high spots and action that the fans and I were expecting.
The only gripe that I have with the bout was Punk's attire. Which were Chicago-themed tights rather than his signature trunks.
That was only the beginning for Punk however as he has now set his next chapter, a feud with Team Taz, made up of Ricky Starks, "Powerhouse" Will Hobbs, wrestling legend Taz, as well as his son Hook.
Time will tell just how Punk's return and the rest of his career will play out, but as of now, Punk has been rushed to getting put in the AEW mobile game Elite General Manager (a game that allows players to run their own shows using AEW's roster), as well as getting action figures made, and having his face on all of the promotional posters.
Both Punk and AEW are at the top of their game and I cannot wait to see what the future has in store; as CM Punk would say, "It's Clobberin' Time"!
Leave a Comment
About the Contributor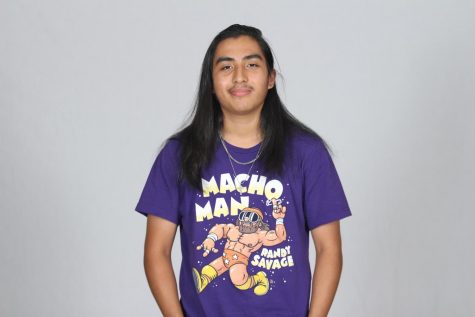 Adriel Medrano, Staff Writer
Grade: 12

Academy: STEM

Number of Years on Staff: This is my first year.

Why do you enjoy being on staff? Being able to research and share topics I'm interested in.

What do you do for fun? Guitar, piano, skateboarding, video games, and pro wrestling.

What are your hobbies? Collecting various items, primarily pro wrestling.

Hopes & Dreams after high school? Begin training to become a pro wrestler.