Softball, baseball season in full swing
Baseball team shares outlook on the current season and how it's going
The Akins Baseball team has been home to a team of chemistry and strong passion. Led by Coach Gordon Taylor, the team has seen a fair share of heights throughout this year's season, despite the current lows. The team has a fire lit in them for victory and it hasn't slowed the team's progression.
The Eagle's Eye asked Taylor about how he's impacted the team, despite only coaching for two years. "I can't speak on what has changed as much as what I've tried to instill here at Akins," he said
Taylor said that he wanted to create a culture where athletes persevere and have fun while doing it. "I know I wanted to have a culture in which kids work hard and have fun along the way," he said.
Taylor said he works to help improve every players' performance in the sport.
"In regard to sharpening skill there's no substitute for repetition," Taylor said. "In regard to making players stand out, they do that on their own. When one of our players has success in this district, which features the most talented players in high school baseball, it is earned, and as a result gets noticed."
Taylor also said that he wanted to make baseball a positive environment and also be possible for any student. Taylor also said how the team bonds together, and having all team members getting along, creates a great experience for the sport of baseball.
"The kids at every level seem to enjoy being around each other and playing baseball. We spend a great deal of time together when the kids mostly like each other it is much more enjoyable," he said David Cisneros, a catcher for the varsity baseball team, was asked about his motivation for playing baseball, and why the sport is important to him.
"For me, it's my aspiration to go play baseball at the next level in college and to continue my education as well." He said
Cisneros said he's been playing baseball for most of his life.
"It's always been fun," he said
Cisneros continued by saying "Just getting to play with your friends all the time and just doing what you love all the time so you can't really ask for anything better."
Cisneros was also asked about his thoughts on the season so far, to which he replied that it has been going as the team wants, but they still have a long season to go. He hopes they can turn it around in the second half.
Softball team gives insight on the sport and give their thoughts on current season
Despite the problems athletics has been facing with coaches, the Akins softball team has managed to start off with a fire in them for victory, even with a newer coach. Tallie Thrasher, the softball coach, has only been with the softball team for the current season, she has been working hard with the team and makes sure every player receives equal discipline, "I do my best to find ways to reach each player individually where they can understand what I am asking them to do, skill-wise," she said

Thrasher also said how each student varies in performance, some might need one single pitch, while others may need 40.
"We do what I call, 'feel-good hitting.' They may need 1 pitch or they may need 40, but they will always end on something they feel good about."

She also said the Akins softball team hasn't only faced issues with keeping coaches but has also suffered from mentality as a team.
Softball is a game that takes a massive amount of focus and mentality from the players. It may seem like baseball, but the preparation for the game is a whole different ball game.

Senior Mia Rubio, who's played softball for approximately nine years, said "The game is 90% mental and if you're not in the right mindset, you won't have a good performance." Rubio also mentioned how the team seems to be wrapped up in mentality, and that it's what affects the players the most.

"It's like we're all in our heads and it's mental. And so we're all not doing as good as we should," she said. All other softball players mentioned the same sentiment and outlook with mentality. Rubio said she is motivated by the frienships she makes.
"I just enjoy being able to make friends out of teammates," she said. "That's like one thing that I've always liked about the game is that you make you meet so many new people," she said Isabella Santiago, a senior on the softball team, suffered a concussion and was out for the start of the softball season, despite the challenges she faced suffering from a concussion, she said the team has been at her support all the way, "The team as a whole has been really supportive. It's been somewhat mentally draining, not being able to help my team on the field," she said. Santiago said that she feels like the team is doing good, and they still have more to push out as a team. Coach Thrasher was also asked what she would like the team to accomplish

"I hope that each player has fun and gets better every day," she said. "Not only on the field but as a human being. We have had a challenging year, but these tough times are only temporary, and only make you stronger as a student-athlete, but also as a person."

Leave a Comment
Donate to The Eagle's Eye
Your donation will support the student journalists of Akins High School. Your contribution will allow us to purchase equipment and cover our annual website hosting costs.
About the Contributor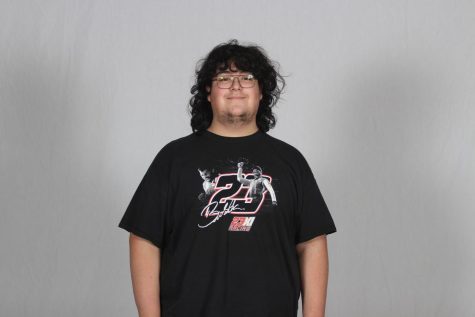 Adan Sanchez, Staff Writer
Grade: 12th

Academy: Stem

Number of Years on Staff: 1st year

Title: Sports Editor 

Why do you enjoy being on staff? Being able to write my own articles, and work more with people

What do you do for fun? I watch NASCAR, and F1, and I play music

What are your hobbies? Music video games, and collecting.

Hopes & Dreams after high school? Go to Texas State for Mariachi Program