Black Panther album is more than just the soundtrack for the film
Music collaboration produced by Kendrick Lamar is as powerful separate as the movie itself
Hang on for a minute...we're trying to find some more stories you might like.
The Marvel movie Black Panther was a huge success. It immediately garnered a loyal following and made more than $1 billion internationally. Since the movie has been out for two months now and the hype has died down, another aspect of the Black Panther release can be more fully considered: the album.
Here are a few of my favorite tracks:
In All The Stars, the first single and most popular song on the album, Lamar covers a lot in a brief four minutes. He and R&B singer SZA sing about love and dreams. In one section, Lamar deploys his hallmark challenges and explores his upbringing as he raps "Tell me what you gon' do to me/Confrontation ain't nothin' new to me/You can bring a bullet, bring a sword/bring a morgue, but you can't bring the truth to me."
In the track "X" performed by ScHoolboy Q, 2 Chainz and Saudi, the rappers produce a banger that is appropriate for both the movie and just getting hyped up. The urgent, fast-paced quality is punctuated by Lamar's repeatedly saying "Are you on ten yet?" It is a song guaranteed to get in the listener's head. The track "I Am" by the singer Jorja Smith and a little feature by Kendrick Lamar is another popular track. This song is talking about love and opening up to share with others who you really are.
Another good track is "King's Dead" by Jay Rock, Kendrick Lamar, Future and James Blake, it has also been one of the fan favorites. The song has been on the top charts since the soundtrack came out and to this day it remains in the Billboard Top 200. It is one of the hype tracks on the soundtrack, the artists on it discussing everything from money to their own lives. This song is one of the more polarizing songs on the album, but the people who love it talk about it nonstop.
"Opps" by Vince Staples and Yugen Blakrok is yet another song on the Black Panther album that has blown up but still deserves more attention with Staples taking the lead verse and Blakrok closing it out. This song is very up tempo and intense in all the best ways.
Black Panther was unparalleled in its employment of black people behind and in front of the camera, and the album was no exception. This is significant for many reasons.
In Hollywood, black people do not always get the predominant hand in creating their own culture. Most importantly, however, the excellence of this movie and album demonstrates that black people can succeed in industries they were historically excluded from. Black Panther: The Album is another field in which the Black Panther team is a masterclass in representation and inclusion.

About the Contributors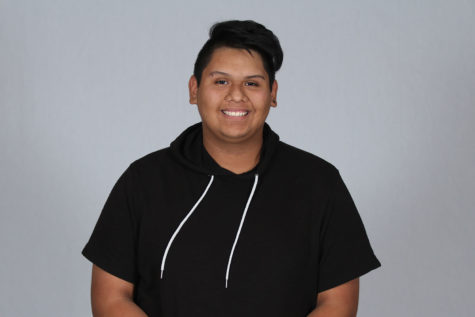 Eli Calderon, Staff Writer
Name: Eli Calderon
Grade: 12
Academy: AHA
Year on Staff: 2nd
Title: Staff Writer
Why they are on staff?: I love to write for the paper, it has become...