Students learn audio storytelling to document local folklife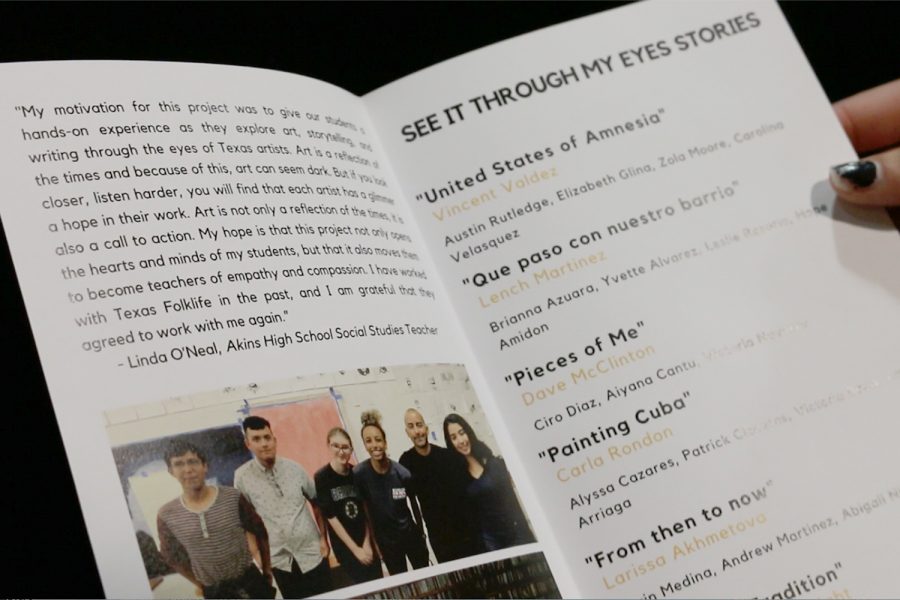 Learning about government by talking to artists isn't the most common way to teach civics, but for social studies teacher Linda O'Neal, it makes perfect sense.
O'Neal, who teaches the Austin Corps government internship course, added a storytelling component to the course for the first time this semester, requiring groups of students to interview various artists and community members. Most of the people interviewed for the stories were artists that create works that contain social justice messages. 
"My hope is that this project not only opens the hearts and minds of my students but that it also moves them to become teachers of empathy and compassion," O'Neal said in a press release. 
The students' work was produced as audio stories that were published on the Texas Folklife organization's SoundCloud channel. It was the first time these students had ever produced audio stories with professional recording and editing equipment provided by the organization.
The project is part of Texas Folklife's "Stories from Deep in the Heart" program, which provides audio documentary training for Austin and Central Texas high public school students and teachers. Participants create short, broadcast-quality audio documentaries on the stories, folklore, arts and traditions of their families and communities.
Danea Johnson, program director for Stories From Deep in the Heart, said Texas Folklife teaches audio recording because it values the power of oral history as a vehicle for documenting folklore — and because anyone call tell a story. 
"Audio is an ideal way to capture stories, and the format is becoming more accessible as technology evolves," she said in an email. "By using audio to convey a message, and bring stories to life through visualization similar to reading."
Johnson said the program works best as group-based work and a peer-to-peer learning experience. 
"
My motivation for this project was to give our students a hands-on experience as they explore art, storytelling, and writing through the eyes of Texas artists."
— Social studies teacher Linda O'Neal
"As part of the production process it's important every student has a role in the process while discovering or strengthening new skills related to audio production and storytelling," she said. "It is also integral to the Stories program we find artists the students were aware of or can relate to as part of their cultural history living in Austin."
The stories ranged in topic from visual to musical art and community traditions. 
There are six stories with five stories about artists: Vincent Valdez (The City and Strange Fruit), Dave McClinton (graphic designer, artist), Larissa Akhmetova (muralist), Carla Rondon (Akins High student) and rapper Lench Martinez (What Happened to Austin). The sixth story is about an Akins High tradition.
On December 6th, those six stories were presented to an audience in Austin's own city hall.
Artists Dave McClinton, Carla Rondon, and Lench Martinez were in attendance that night and even participated in a Q&A after the presentations.
All six stories can be heard on the Texas Folklife SoundCloud channel. 
Since 1984, the TXF has honored traditions passed down within communities, explored the importance of traditional arts in contemporary society and celebrated the state's vibrant heritage by providing arts experiences enjoyable and accessible for all generations.
O'Neal said that she added the storytelling component to her class to give her government students a chance to learn how to make a positive impact in their community.
"My motivation for this project was to give our students a hands-on experience as they explore art, storytelling, and writing through the eyes of Texas artists," O'Neal said. "Art is a reflection of the times and because of this, art can seem dark. But if you look closer, listen harder, you will find that each artist has a glimmer a hope in their work. Art is not only a reflection of the times, but it is also a call to action."
About the Writer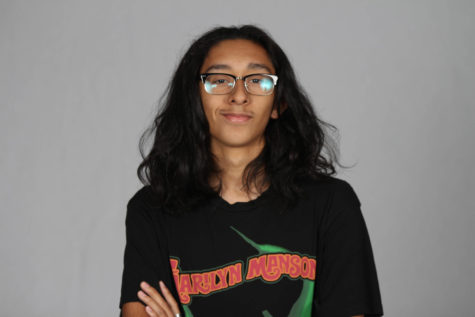 Santos Gutierrez, Staff Writer
Name: Santos Gutierrez
Grade: 11
Academy: New Tech
Year on Staff: 2nd
Title: Staff Writer
Why they are on staff?: I write a lot
What do you do for...