Male performers outshine stereotypes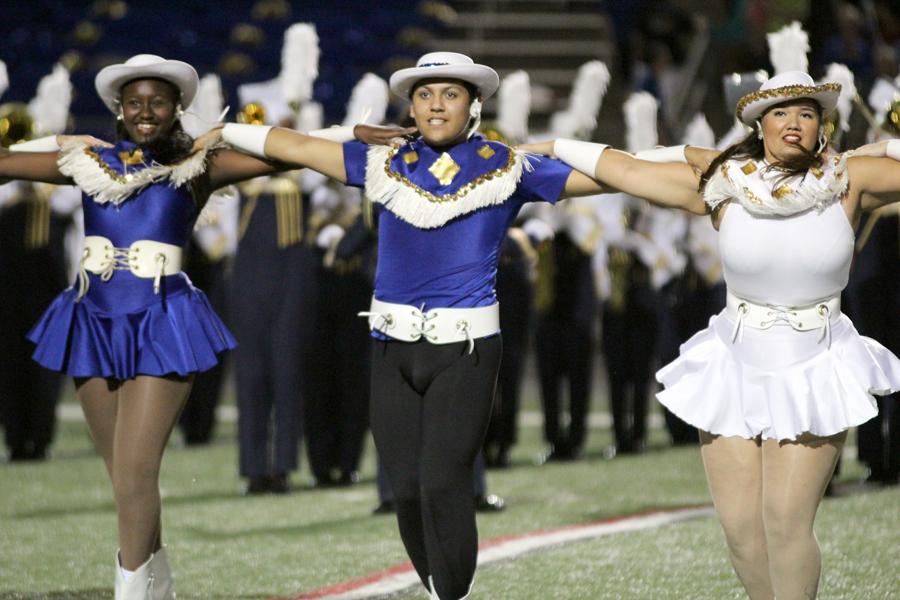 Standing out in the performances of a mostly girls team, is something that junior Jorge Rocha and senior Abraham Vargas-Alvarado aren't afraid of.
"Its really cool actually, they don't treat me any differently whatever goes for them goes for me,
I like the spotlight, I like staying out, I like being noticed," Rocha said.
Males on a female teams are not a common sight at Akins. The last male Diamond was in 2003, was a senior named Osagie Enigie a little more than a decade ago. Two years ago Bobby Morris was a male co-captain on the cheerleader team.
This year the Diamond Dazzlers have Rocha on their team, and Alvarado has also been on a female majority cheerleader team since his junior year.
"I think it's a good thing to do because you stand out more and it gives you the opportunity to prove that, yes, girls can do anything guys can do but guys can do anything girls can do as well," Alvarado said.
In the past years, Rocha was on the color guard team, joining his freshmen year,
"I wanted to do it because my sister did it for all four years and it looked like a lot of fun," Rocha said. Color guard instructor Jesse Arbolay sparked Rocha's passion for dancing.
Although it wasn't until Diamonds coach Ally Gates spotted him on the field performing with the color guard that started the switch from color guard to diamonds. "I wanted him on the team, I actually approached him saying, 'You have to try out!' I watched him during football season, I thought he was very talented," Gates said
"It was a difficult switch because my passion lays between the two," Rocha said.
For Alvarado his heart is set on cheering.
"I've been cheering for five years. During my 8th grade year I started tumbling at a gym called Cheer Station and then freshman year I cheered at Travis, sophomore year at Crockett and junior and senior year at Akins, "Alvarado said.
Fitting in was never a problem for either of the guys.
"I was excited when I found out that Abraham was trying out. He's a confident young man. That's the way cheerleaders are supposed to be," assistant cheer coach Ebone Bagnall said.
Gates said the Diamonds reacted positively to having a male dancer joining. She said the girls responded that they were more than happy to have him on the team, and everyone now loves him.
However, being on a majority girl team can still arise typical stereotypes that can affect the boys negatively.
"People aren't used to seeing a male cheerleader, guys especially," Alvarado said. "But I'm extremely happy with what I'm doing and that's all that matters in the end.