Teens adjust to increase in tobacco purchasing age
Hang on for a minute...we're trying to find some more stories you might like.
Two students are in line at the convenience store. One turned 18 August 31, the other just 24 hours later. Both get carded to purchase an e-cigarette. One is denied. Why? On September 1, Texas became the 16th state to raise the age limit to use or purchase tobacco or e-cigs from 18 to 21.
Data from the Campaign for Tobacco-Free Kids website tells us nearly 12% of high school students in Texas smoke cigarettes, and 19% use e-cigarettes. It also mentions that the vast majority of students who use e-cigs use the flavored variety.
In fact, the Trump Administration has recently proposed banning flavored electronic cigarettes because of the increase in use by young people and a large number of serious health crisis that has been going on.
According to the Washington Post, the Administration's move comes as health officials across the country investigated more than 530 cases, including six deaths, of lung disease linked to vaping. "We've got these 18-year-old kids who have pneumonia, who have lung cancer, who have breathing problems, who were you know, within an inch of their life on breathing apparatus is because of vaping," Akins Principal Tina Salazar said.
Adults, unsurprisingly, largely agree with the new law. Mainly citing maturity levels in young adults. "I don't feel like everything's developed enough. And then when you start adding those extra chemicals in their bodies, it causes changes that they're not mature enough, or prepared to deal with," Health teacher Erica Routt said.
Even with the law change, there are regular incidents of students vaping while at school and some will even try to do it during class. Most students aren't worried about the consequences that are given to them at their school for finding them with the vapes or even the consequences they face while taking in these chemicals.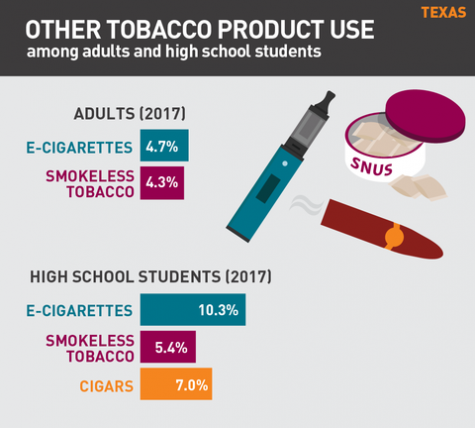 Some area school districts have started tracking vaping incidents on campus. Austin ISD just started tracking this year and it doesn't plan to release data until the end of the school year.
Some Akins students are upset that they will now have to wait until they are 21 to legally purchase tobacco products, including e-cigarettes. An Akins student who wished to remain anonymous is upset at the fact that, although she turned eighteen on September 6, she is unable to purchase tobacco legally.
"I'm an adult, but (according to the law) I'm not an adult. I'm a pre-adult, basically. We could do all this stuff, but we can't even go buy a pack of cigars," she said. "We have an apartment, we can have a car. But we can't go buy cigars."
About the Contributors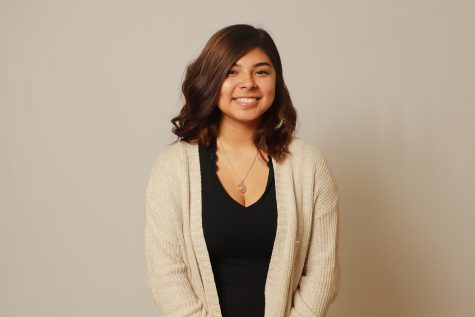 Evelyn Moreno, Staff Writer
Grade: 12th

Academy: New Tech

Year on Staff: 2nd

Title: Staff Writer

Why they are on staff? I would like to learn more about things going on...