Student reflects on mental health in quarantine
It feels like COVID-19 is in our heads for every minute we are awake these days.
I turn on my TV and see the news anchors updating viewers about the virus 24 hours a day. When I open Instagram, Twitter, Facebook, and other social media sites all I see are people posting about the virus. Some posts are memes and jokes about it while most are spreading the word that people need to stay home and be safe and clean.
Before school was canceled, I didn't really think much about the virus outbreak. It seemed like something that was happening far away. I didn't believe that it would affect the people around me or myself. But when it started to spread in the United States the more I realized that this is a very real thing and that we should all be concerned.
COVID-19 has been affecting a lot in everyone's everyday life. I have family who is now working from home, and I see others losing their jobs because of the social distancing measures that have been implemented in Austin and elsewhere. No one really knows how long this will go on.
The uncertainty has caused people to go to stores and stock up on anything they may need. The only time I have been able to get out of my house is when my sister and I decide to go on rides or when we have to go to the store. Which we did a lot at the beginning of all of this and when I tagged along I could see how much people were really freaking out about the virus and being told to stay at home. But now we hardly go unless we absolutely need to.
I saw so many empty aisles. Food, cleaning supplies, and toilet paper that I would always see in abundance when I would go to the store are seemingly nowhere to be found.
Social isolation and social distancing have worsened my mental health and that of many others, as well. Because I suffer from depression I am used to having days where I just want to isolate myself. But going out to places and seeing friends helps me. Therefore, having to be stuck inside my house for so long very challenging.
During the first week of practicing social distancing and isolation, I had found myself stuck in bed all day not wanting to get up or do anything. I let my depression have power over me, and it took me a few days to talk myself into being more productive around my house. It was hard to not succumb to the depression and not fall back into that dark place. But unfortunately keeping my mental health at a stable place is still a big problem for me.
As I start to find new activities to distract myself with, I went to my Instagram and posted a list of things that I thought my followers could do to help themselves. Because although we all may feel like we are the only ones having to be isolated there are actually so many other people doing it, too.
I have been binge-watching shows on Netflix, playing board games with my family, and using my phone to distract myself. There are times where I really need to get out of my room so I try to go outside for a few minutes to enjoy nature. These things have been helping me stay in a positive headspace.
What has also been entertaining during this time of isolation is so many artists are going live on Instagram to play songs, talk about random things, or show what they have been doing to entertain themselves. This also helps relieve stress and anxiety during these long days of isolation.
But I cannot deny that the COVID-19 outbreak has me worried about school. Being a junior, I am concerned as to when I will be able to take my final STAAR test and the rest of my TSI tests. Although the students can sign up to take the TSI´s remotely the only students who can for sure take them at the moment are seniors and ECHS academy students. This has caused other students to be frustrated because they are wanting to have access to taking these tests.
And because online learning is continuing for the rest of the school year this builds that stress and lack of motivation for all students. Doing schoolwork at home instead of at a school/workplace has been challenging.
And although graduation has been set for August of this year I still have seen many seniors online express how they are worried that they might not be able to walk across the stage at graduation. I have seen many also express their sadness and anger over not being able to have a prom or enjoy the rest of their final year of high school.
As a teenager during a time like this, it is hard to find ways to help. While I can't afford to donate to health organizations or go out and work, I do what I can on social media. I have used Instagram to remind everyone that they need to stay home. It is important for my friends to know while we are experiencing social isolation, we aren't alone. We can still reach out to talk anytime.
There is so much fear and worry I see built up in so many people I know. I have to admit that I also feel worried and afraid of what may come. Thankfully, I have my family with me during these scary times which helps relieve my anxiety and have hope that things in the world will get better eventually.
Leave a Comment
Donate to The Eagle's Eye
Your donation will support the student journalists of Akins High School. Your contribution will allow us to purchase equipment and cover our annual website hosting costs.
About the Contributor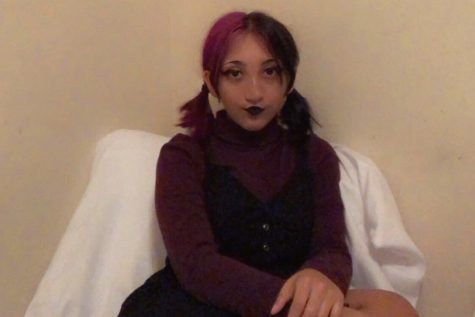 Anneliese Olivo, Entertainment Editor
Name: Anneliese Olivo (Anna)

Grade: 12th

Academy: New Tech

Number of Years on Staff: 3

Title: Entertainment Editor

Why do you enjoy being on staff? I enjoy being on staff because of the people that I am surrounded by. They make me open up more and keep me motivated to work on the school newspaper.

What do you do for fun? I watch movies, design my own clothes, and listen to music.

What new hobbies, activities do since quarantining because of COVID? I have picked up skateboarding; I mostly just cruise but am trying to learn a few tricks. I have also picked up designing my own clothes into items that fit my lifestyle and fashion taste.

Hopes & Dreams? I hope to attend college after I graduate to study journalism and become some type of journalist.