Teammates feel a sense of brotherhood throughout the fall season
Varsity players push each other to excel on and off the field, promote dynamic sense of unit
Hang on for a minute...we're trying to find some more stories you might like.
"One team with one dream" is a cliché phrase said in football frequently. However, the Akins Eagles football team have overcome many challenges to get where they are today, making it ring true.
It's not easy for 48 different personalities to come together in a cohesive unit to be successful. Senior Isaiah Davila said the team has "had to overcome individuality and play as a team." Without every single player making this choice, the bond between the Akins Eagles Football would not exist.
This type of bond does not form overnight: it takes time. A bond like the one the Akins Eagles Football team has, comes from pushing each other on the eld and in their daily lives as students to do their very best. Their coaches have drilled them to give just as much in the classroom as they do on the field.
"
I feel like the pressure is a blessing in disguise. I use it as my drive for the game, and it keeps me going."
— Malcolm Rogers
However, it is a challenge to not only balance football and school, but also the drama of teenage life. Quarterback Nicholas Cagle said he and his teammates spend long hours outside of school to practice. He said it is a challenge for them to practice their craft, excel in school, maintain a job and still enjoy their social lives.
Being on the football team has forced the players to get better at managing their time, Cagle said.
"I try to manage my time well and get things done early" to avoid disrupting this balance, he said.
There is a lot of pressure on the team to uphold the team's reputation. The whole school is counting on the team for a win, along with their friends and family included. Although the pressure is a challenge, it also has its benefits, senior Malcolm Rogers said.
"I feel like the pressure is a blessing in disguise," Rogers said. "I use it as my drive for the game, and it keeps me going."
In addition to the pressures of football, school, and teenage life: Football players also are worried about the injuries of their teammates, or themselves. Players have been seen tearing up on the sidelines when they see their fellow Eagles hurt on the field.
"It feels as almost a family member is hurt and needs us by their side. We're only as strong as strong as our weakest link," senior Rowan Sterling said.
Being a part of the football team is a brotherhood forged in sweat, blood and tears. Several players said they couldn't see themselves without being a part of the football team. "Without football, there wouldn't be a purpose for me. I believe in my team and I believe in our dream," senior Jeremiah Brown.

About the Writer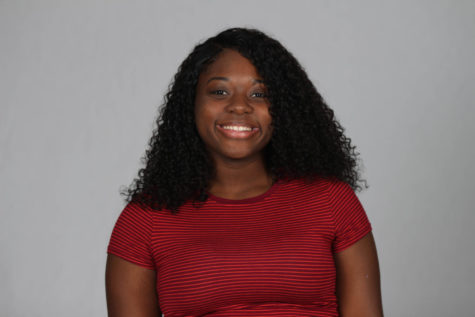 Johnniece Walker, Staff Writer
Name: Johnniece Walker
Grade: 12
Academy: Social Services
Year on Staff: 1st
Title: Staff Writer
Why they are on staff? To help advance my talent...