Varsity Football team makes the playoffs with win against Manor
Hang on for a minute...we're trying to find some more stories you might like.
The Akins Varsity Football team narrowly cleared the hurdle to make it into the play-offs with their win over the Manor Mustangs on Friday.
It is the second time in school history for the Eagles football team to make it into the playoffs. The achievement was made possible by a combination of good fortune and perseverance on the field as the Eagles came from behind in the last quarter to score the win.
The team knew there was a slim chance of making the playoffs before the game, but that depended the Del Valle Cardinals beating Anderson Trojans at the same time. The coaches counseled the players to not think about the possibility of the playoffs during the game and instead focus on the game at hand.
Wide receiver Antonio Lopez acknowledged that it was hard to deal with the pressure, but he said he was pleased with the result.
"We handled it pretty well actually we put the nerves aside and did what we had to," Lopez said.
Lopez scored the game winning touch down in the last stretch of the game, putting the Eagles on top with a final score of  24 – 17.
"Man it was crazy there was about 15 seconds on the clock, I told (receiver) Jeremiah (Brown) that I knew it was gonna go to either me or him. (The quarterback) Nick (Cagle) gave me the ball and I just dived into the end zone," Lopez said. "Man, I feel amazing. I'm a sophomore on varsity. I just wanna give a big shoutout to the seniors, they pushed me and believed in me throughout the entire thing. It feels amazing, man."
The Eagles scored that touchdown and everyone at the game went crazy with Eagle pride. No one could believe what had just happened. For many it was all a dream come true.
The Eagles will first face Cedar Ridge, who is currently undefeated in District. The game will be on Thursday, Nov. 16 at Kelly Reeves Stadium in North Austin.
A spirit bus will be available to take students to the game on Thursday leaving at 5:30. Bus tickets for  $5 and discounted stadium tickets for $3 are available for sale from Christiana Jenschke in RM 260.

About the Photographer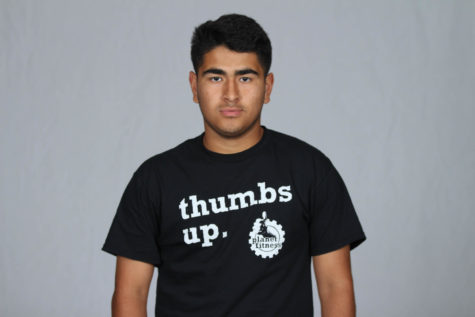 Justen Arzola, Online Sports Editor
Name: Justen Arzola
Grade: 12
Academy: New tech
Year on Staff: 3rd
Title: Online Sports Editor
Why they are on staff?: I like using computers.
What...