Track and field relay team breaks numerous school records at meet
Hang on for a minute...we're trying to find some more stories you might like.
Every track and field athlete has their own personal goal to conquer.
Not only do they compete against other schools, they are competing against themselves hoping to break their own personal records.
Akins track athletes started off with success and broken school records. Kemaya Wyatt's 34 triple jump at the St. Andrews Relays is just one example. The boy's relay team also broke several records, including the 4×100, 4×200, and even setting a new record for the 4×800.
However throughout the season, the runners would not be able to accomplish these victories if they did not set the bar high for themselves with the help of their coaches. Senior Nevaeh O'Neal said the coaches pushed her to accomplish her goals to receive a scholarship this year.
"I've been striving for greatness this season especially with it being my last, I couldn't be anymore thankful," O'Neal said.
She also set a new goal to reach for herself by hoping to beat the triple jump record with at least 36 foot and to make state with her relay team.
As far as district has gone several Akins athletes have advanced to area such as KJ Robinson in high jump and long jump, Cassius Serf-Roberts and Matthew Quiroz (known as Q), for the 3200 meter run.
"I honestly don't think I could have made it this far without my coaches and teammates striving for more than what I didn't believe I could achieve," Quiroz said.
With these people by his side he will continue to work harder and strive for his new goal to make it to regionals, he said.
On the girls side, several athletes from the 4×100, 4×200, and 4×400 relay teams advanced, including Nevaeh O'Neal, Kemaya Wyatt, Zola Moore, and Kayla Ford.
"It feels good to have made it to area because throughout the four 4 years I have put in a lot of hard work, especially with my relay team," Wyatt said.
The athletes said the journey has not been easy, but it has been worth it because of where the dedication has lead them.
Even though there has been tough competition, senior KJ Robinson said a big part of his success this year has been about building confidence.
"When you believe in your ability to compete against others, that is when you are able to succeed," he said.

About the Writer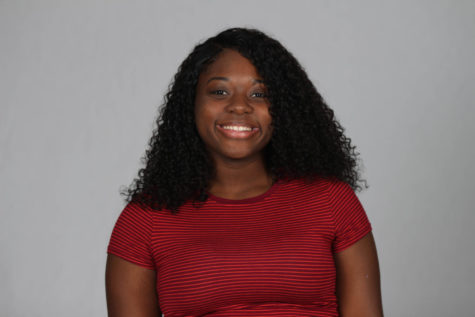 Johnniece Walker, Staff Writer
Name: Johnniece Walker
Grade: 12
Academy: Social Services
Year on Staff: 1st
Title: Staff Writer
Why they are on staff? To help advance my talent...