Girls wrestling team wins district championship for the 5th time
Wrestling prioritizes conditioning, district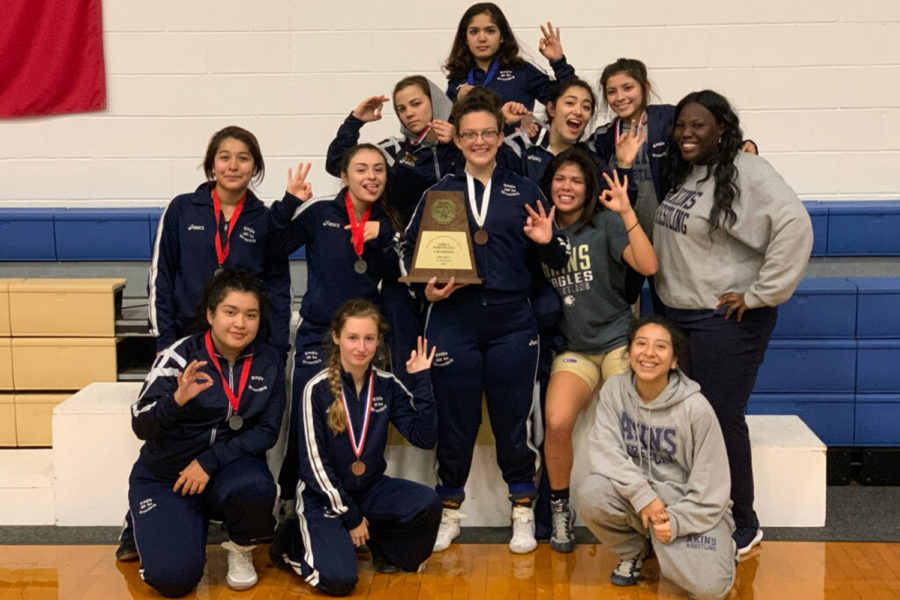 On Feb. 8, the Varsity Girls Wrestling team won the district championship for the fifth time in school history.
Nine members of the girls varsity team will advance to the regional tournament in San Antonio this weekend along with senior Rhyse Joseph representing the boys varsity wrestling team for Akins.
While wrestling is often overshadowed when one thinks of school athletics, but some dedicated Akins athletes have seen impressive results this year.
Junior Melanie Piña said that she has been working hard in order to get back into shape following foot surgery.
"I'm trying to get back into shape and everything," Piña said. "Hopefully I'll also place district."
Coach Roy Tambunga said that he values the commitment of many of the wrestlers. He said that potential doesn't mean much if the time to cultivate it isn't put in by showing up to practice.
"We have people that are hard working that have been putting in work for the year," Tambunga said. " e people that come every day (and) every practice all summer long are the ones that are hardworking and it pays o ."
Piña said that junior Sophia Rivera is one of his hardest working students. With a record for the season of 38-10, Piña said that Rivera is one of the most talented on the team.
"(Rivera) is our most talented wrestler," Piña said. "She works really hard."
Rivera said that she has been wrestling for three years. She said that while wrestling is an individual sport she thinks it's important to recognize the e ort of the team as a whole. "I don't really like to say that one person is the best," Rivera said. "I feel like there are so many people that have been putting in so much work that I want to (recognize and praise)."
Rivera said that her personal goal for the year is to make it to state. She said that she has been conditioning, working out and doing mat drills in order to improve ahead of the district matches held on Feb. 9-10.
Rivera said she's seen results from her training efforts.
"Last year, I rarely placed at tournaments," Rivera said. "This year, I've placed at every tournament I've gone to."
Tambunga said that while he saw some wrestlers quit, he has seen effort on the part of most of the team before district.
"They're better at wrestling right now than they were at the beginning," Tambunga said. "The ones that have stuck with it are good workers."
Rivera said that she has seen the same level of effort she puts in from her teammates. She said she works with the team during her wrestling period in order to prepare.
"I'm putting in as much work as I can and never stopping," Rivera said. "The team is trying to change their mindset and flip that switch before district."
Evelyn Moreno Contributed to this story