Re-alignment brings new opponents in District 26 for Akins
Every two years, the University Interscholastic League realigns the groupings of school athletic competitions by removing and adding schools from each of the state's 32 districts.
The cutoff for the 6A classification is 2,225 students and up.
Akins will remain in the 6A classification based on its enrollment size of 2,643 and in District 26. However, there are some notable comings and goings that will provide some new challenges and opportunities for Akins teams.
In the last realignment, the UIL 26-6A district lost Lehman and Anderson for San Marcos High School. This time, fellow Austin ISD school, the Anderson Trojans will rejoin the 26-6A district. And they will be joined by the Johnson Jaguars in the Hays school district and Dripping Springs Tigers, which both have fairly successful athletics programs, especially in football. Johnson had the top 20 quarterback in the country and Dripping Springs had the top 10 quarterback in the country this year.
Joey Saxe, Athletic Coordinator and Head Football Coach, said he believes that the realignment would be a good thing for our athletes.
"Anytime you get a new district it provides new opportunities for all of our athletes to showcase their talent across the city. We're picking up a few new top opponents in the state with Buda Johnson and Dripping Springs, which have had some success recently. With Johnson coming into our district, you see a lot of athletes that people grew up with, and so it's fun for the kids like it really is," he said.
Some of the returning athletes had some good opinions on the district realignment and what it'll bring to their 2022-23 seasons. Junior Mia Rubio, who plays softball said she thinks that the new teams coming into the district next year will be not that different from teams we played this year.
"Our district is a tough district as is with a lot of good teams, so in my opinion, it won't really change a lot," she said.
Junior Javier Rodriguez, who plays football, had a different opinion than that of the others.
"Across the board, yes. The realignment will affect more than just the season, altering district placement for other schools, introducing two new 5A powerhouses like Johnson or Dripping Springs."
Rodriguez added that he doesn't think players should be too concerned about the realignment.
"The objective is to go out and compete with whoever, wherever, whenever," he said.
With this being said, that doesn't make the district any easier. Dripping Springs and Buda Johnson are both 5A powerhouses and are more than capable of performing at the 6A level. But athletes and coaches here at Akins said they are ready to take them on.
"We play against the best in the state of Texas. Arguably, maybe even the country," Saxe said. "We've got some pretty good new opponents coming in, but we've been playing good opponents like that."
"I wouldn't worry about any new opponent. If anything, I'm excited," Rodriguez said.
"I'm not so much concerned about any of the teams, I'm more interested in what they have to bring skill wise, we just have to think of it just as another team to beat," Rubio said.
Saxe said he sees the realignment more as an opportunity.
"As a head coach, you always want to compete against the best because I think when they are the standard, that sense of what excellence tends to be, you can kind of judge where you're at as far as your program," he said. "Is it going to be a challenge? Yes. Do I like challenges? Yes. That's why I came to Akins," he said.
With this information, it sounds like no one is very concerned about what next year's realignment brings and it seems as if the athletes and coaches are more excited than anything to take on our new opponents.
One other important change to District 26 is the overall increase in number from eight to nine teams. With the addition of another opponent comes the addition of another district game, as well.
Teams often judge their success on making it into district playoffs for the chance to win a championship. Having an additional team in the mix will change the math that is used to determine which teams make it into the playoffs.
"Yeah, you know, anytime you add one more team into your district, it makes it harder to make the playoffs right, because you have to beat one more opponent," Saxe said.
Leave a Comment
Donate to The Eagle's Eye
Your donation will support the student journalists of Akins High School. Your contribution will allow us to purchase equipment and cover our annual website hosting costs.
About the Contributor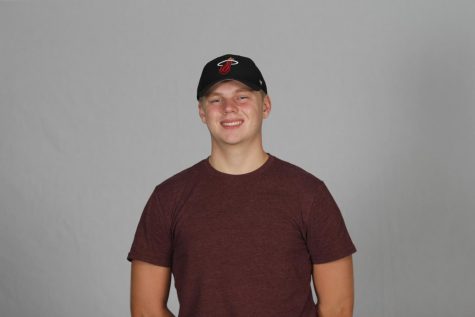 Tyrson Graham, Sports Editor
Grade: 12

Academy: STEM

Number of Years on Staff: New to staff

Title: Sports Editor

Why do you enjoy being on staff? It's a fun thing that I'll be able to look back on after I graduate

What do you do for fun? Play video games and listen to music

What are your hobbies? Playing sports and lifting weights

Hopes & Dreams after high school? Go to college and graduate with a masters in Mechanical Engineering

Twitter handle: @Tyrson8