Artist enchants comic book readers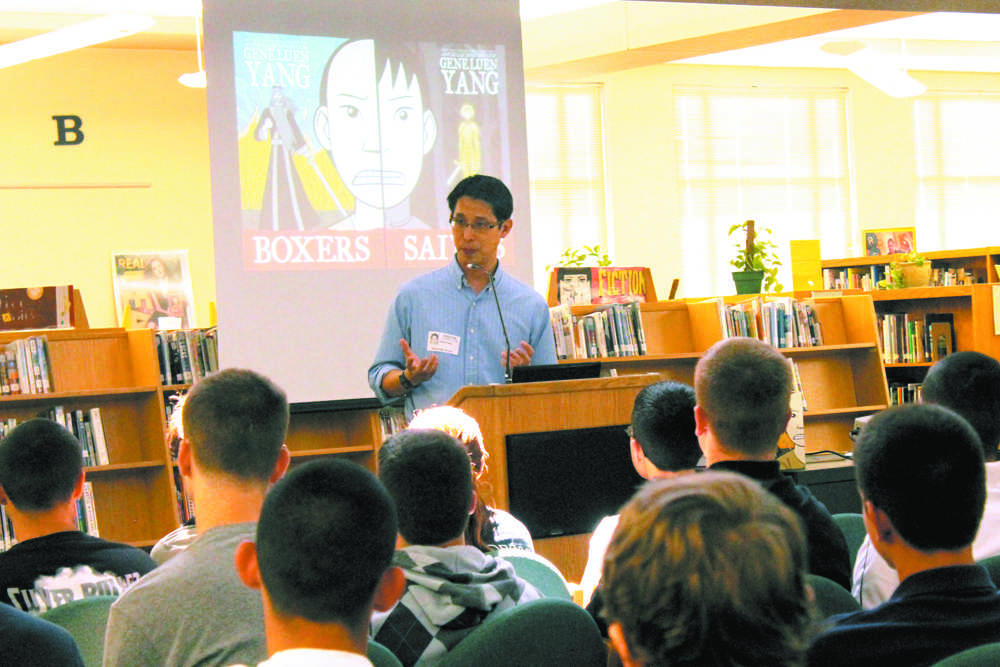 As a young child Gene Yang, graphic novel artist and writer, wanted to be an animator and dreamed of someday working for Walt Disney.
The Chinese graphic novel artist and writer, visited students of Akins High School on Wednesday, Sept 25.
Once he began collecting comic books, his mind changed. Yang decided that being an animator took more work than he had expected, so he would be better suited in the making of graphic novels and comic books. Thus, his dream of creating graphic novels began.
In 1996, Yang began publishing his own graphic novels and comics under a small company under the name of Humble Comics.
Yang's work took off when Dark Horse Comics, the third largest comic publishing company in the United States, asked Yang to help the writing of graphic novels to add onto the Nickelodeon show, Avatar: the Last Airbender.
Yang recently came out with his paired books titled "Boxers & Saints". The books focus on the Boxer Rebellion in China, more than 100 years ago when the Chinese government faced internal conflict.
Along with "Boxers & Saints", Yang has also written and illustrated a graphic novel close to home called, "American Born Chinese".
"American Born Chinese" has many aspects from his childhood and his home thrown into the story's characters and some of the plot. The story includes Chinese stereotypes as well as situations that an immigrant child may feel in a culture different from they're own.
The first story line in "American Born Chinese", involves a character from Yang's childhood named the Monkey King. Becoming a symbol for Yang's childhood, The Monkey King was a character Yang was sure he wanted to incorporate into a graphic novel.
"The Monkey King for Chinese people is like Mickey Mouse is for Americans," Yang said.
The third story stars a character names Cousin Chin-Kee, a student at the school that always makes jokes and remarks. Chin-Kee used to be a character that Yang would draw in his notebook as a young child. When Yang came across his old journal, he knew he wanted to incorporate his childhood drawing into his graphic novel.
Even Yang, an emerging writer and illustrator, has discouragment from doing what he wanted to do. Publishers were not sure about his concepts and ideas, and neither were his parents.
"I had very practical parents. They wanted me to be an engineer or something along those lines," he said.
Pushing past those expectations, Yang earned him awards for his novels. "American Born Chinese" was a 2006 National Book Award nominee. It also won the Eisner Award for Best New Graphic Novel, and the Michael L. Printz Award, both in 2007.