Long awaited film showdown arrives in theaters
Batman v Superman is more than the Dawn of Justice, it's the Dawn of Fans.
Based on Rotten Tomatoes ratings, only 29 percent of critics gave the movie a positive rating while a whopping 71 percent of fans gave it a rating of 3.5 or higher on a five point scale. It's clear the film was successful in satisfying the audience it was designed for, the fans not the high-minded, stuck up critics.
When the movie was announced back in 2015, I strongly stood with the critics on the doubtful and uncertain side of the anticipation. However upon seeing the film twice within 48 hours, I was proven wrong.
For starters, Dawn of Justice has some of the most stunning cinematography you'll see. Larry Fong, director of photography, feeds the audience with visual elegance, that is accompanied by an intense soundtrack by the brilliant Hans Zimmer and Junkie XL. Zimmer has taken part previously with soundtracks like Sherlock Holmes: A Game of Shadows and The Dark Knight Rises, and Junkie XL has worked on 300: Rise of an Empire and the recent record breaking hit Deadpool.
The film stars Ben Affleck, Henry Cavill, Gal Gadot, Jesse Eisenberg, and Amy Adams respectively as Batman, Superman, Wonder Woman, Lex
Luthor, and Lois Lane. Affleck easily received the biggest retaliation when the cast was first announced. Upon show time however, Affleck proved to not be the disaster many thought he would be. This version of Batman, whether critics and still skeptical fans like it or not, is supposed to be detached and moody, and Affleck executes that well.
Gadot was also victim to criticism when casted. Many fans, including the woman known for her own portrayal as Wonder Woman in the 1970's series, Lynda Carter, have been waiting for the heroine's return.
"I think it's great. I'm very hopeful for her to reemerge," Carter said. "I think it's time."
Many, myself included, believed Gadot didn't fit the persona of the strong,long beloved Amazonian heroine. Much like Affleck however, Gadot proved herself to be worth the minor forgotten details of appearance, and definitely fulfilled her part as an equal to the male roles that are Batman and Superman.
Cavill, Adams, and Eisenberg received little to no criticism and made viewers eager for the movie to be released earlier.
Dean Cain, who played Clark Kent on the 1990s TV series Lois and Clark: The New Adventures of Superman, praised the movie himself after seeing the movie with his son.
"The movie obviously was so well made; the effects were incredible," said Cain. "Ben was great as Batman and Henry is a very good Superman."
Since the cast was finalized and the movie announced, I was very doubtful of how the movie would turn out. But, having grown up watching cartoons of these heroes and looking up to them as if they were more than fiction, I was willing to give it the benefit of the doubt and I have never been happier to be proven wrong. I saw Dawn of Justice not once, but twice and loved it.
I'll admit, I found myself dozing off about half way through the movie. But, besides having to pinch myself awake occasionally, I would recommend this movie in a heartbeat. Even if you are like me, what some would call a "superhero purist", take a leap of faith and either buy
tickets or see it on DVD.
Do not let the critics keep you away from this movie. I can guarantee that if you truly love the DC universe, you'll be able to forgive minor forgotten details in the grand scheme of Batman v Superman:
Dawn of Justice.
About the Contributor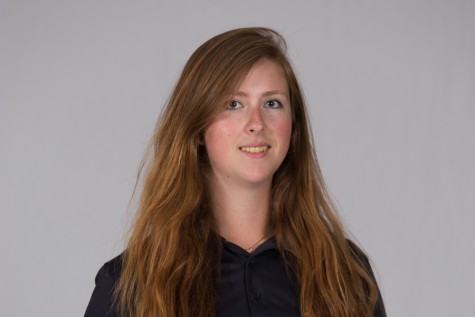 Amanda Livingston, Editor in Chief
Grade: 12th
Academy: New Tech
Year on Staff: 3 years
Why they are on staff: I joined the staff of the Eagle Eye two years ago originally because I wanted to take photos for the newspaper. However over time I wrote more than photographed and my reasons changed. I developed an interest in the journalism field after guest news anchors came and talked to our class, and now it's something I'm looking at doing as a career.
What do you do for fun: I like to watch roller derby and roller skate, and go to live concerts. Other than that I generally am I very calm person in regards to what I like to do. Just simply driving around with my friends or sitting around watching a movie and playing board games is just fine with me.
Plans for after high school: After high school I plan on attending college, hopefully at either the University of Texas or Texas State. I am planning on either majoring in photojournalism and minoring in music, or double majoring in photography and journalism separately and minoring in music. I know after college is done I want to do something involving photography because it's a passion of mine.
Twitter handle: @HeyNamesAmanda
Hidden Talent: I feel like if I have a hidden talent it's writing poetry. I don't do it often but when I do I feel like it turns out pretty well. I also love photography and music, and feel I have at least a slight talent in those areas.