TikTok is the new creative platform to promote music
Olivia Rodrigo, Lil Nas X, and Taylor Swift.
All of these musical artists are household names that in some way owe their success to promotion on TikTok.
Even in its earliest days when it was known as Musicl.ly, the app has always had a focus on singing and dancing although these songs and dances were done as lip-syncs or original dances performed by users.
In August, TikTok revealed that it has about 100 million monthly active users and about 50 million daily active users, with an appeal that skews toward younger audiences. And with boredom being a common problem during the pandemic, usage has likely only increased since then.
For all of these reasons, major music labels had gravitated to TikTok as their preferred platform to promote their artists. And because artists' music is available on the platform for users to create their own lip-syncs and challenges, the artists benefit when their music spreads virally on TikTok.
Artists are also now getting into the game of creating new TikTok "trends" such as dances to go along with the song. This often makes more people interested in these artists and their music.
One artist that has blown up on the app is Olivia Rodrigo. She used to star on a Disney Channel show called "Bizaardvark" from 2016 to 2019. After that show ended, she starred in a Disney+ original show known as "High School Musical: The Musical: The Series."
Rodrigo released her first single "Drivers License" on January 8. The song became a huge success, and she gained a lot of fame because of how it went viral on TikTok. I personally did not know who Olivia Rodrigo was or that she released a single until I saw her trending on TikTok.
All over my "for you" page were videos filled with people reacting and relating to her song about heartbreak. Truthfully, Drivers License helped many relate, cope, and realize that they are not the only ones going through this type of heartbreak.
In the music video for this song, when Rodrigo transitions from the end of the second chorus to the bridge, she falls backward and hangs from the back of a car while she is singing.
Because of this, a new TikTok trend had sparked when this song was rising up into popularity. This inspired many to start doing the same thing but on their beds. And when falling back onto their bed they would go from looking like they had spent the whole day at home to wearing beautiful outfits and makeup.
According to Billboard, Rodrigo's "Drivers License" was "the first song to surpass one billion global streams," And stood "at number one on the Billboard Global 200 chart for eight weeks."
Rodrigo had even passed Ariana Grande's "Thank U, Next" record of the most streamed song in one day on Spotify.
It is very clear that Rodrigo's first single away from her TV show had become a huge success, and this TikTok trend was clearly a big part of that success.
I say this because she went from being a Disney actor into a popular artist who people call "the next Taylor Swift."
In early April, Rodrigo released another single named "Deja Vu." This is a song about how a past partner is with someone else now, and they still do all of the same things they used to do with their ex. Therefore, according to Rodrigo, "It's all reused." So in this song, she questions if her ex-partner ever gets deja vu while doing those things with their new partner.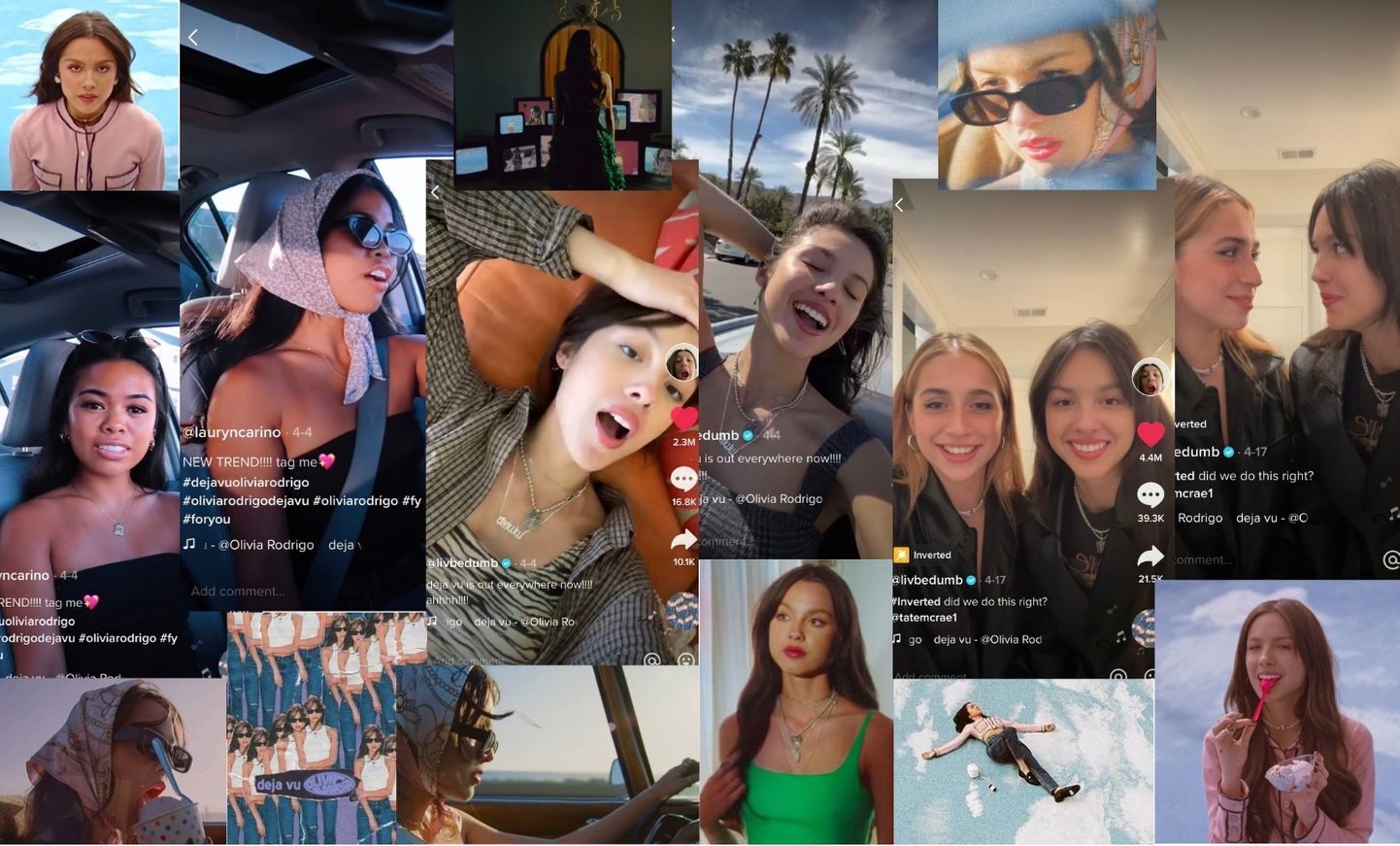 This new single has had similar popularity with the TikTok community as they have created new trends in which fans record themselves while sitting in their car and then transition to video of themselves driving with the windows down while glammed up.
Another trend that fans have made involves using the inverted filter on TikTok. To use this filter users tap on their screen and TikTok will invert the video back and forth. Fans did this while singing along to Rodrigo's song and slowly moving their heads around.
Another artist who has gained more popularity and music streams because of TikTok is Taylor Swift.
Swift is currently in the works of re-recording all of her old albums so that she can own the full rights to her music catalog instead of her previous record label. She surprised her fans with the announcement of her releasing her re-recorded album "Fearless (Taylor's Version)."
The album came out on April 9 of this year, and many fans, including myself, were overwhelmed with excitement. Once the album was released, it made its way to TikTok where "Swifties" were found lip-synching, dancing, crying to the songs on the re-recorded classic Swift album.
Rodrigo is a huge "Swiftie" so Swift made the clever decision to give Rodrigo and Conan Gray an early listen to her songs "You Belong With Me" and "White Horse." This led the two swifties to go to their social media, including TikTok, to make dramatic lip-syncing videos to promote her first soon-to-be-re-released album, along with sharing their excitement for it and making other swifties even more excited as well.
But in all honesty, Swift is already a huge success and is one of the most well-known artists in the world. So even though TikTok may have helped her here and there, she would be fine without it because of how much of a huge fanbase she has.
Other artists on the other hand such as Lil Nas X have nothing but TikTok to thank for the success of their music.
In an interview with Buzzfeed, he admits that TikTok is the reason his song "Old Town Road" was so successful. It was once a song that started as a famous meme but eventually became a hit because of the popularity it gained from the app and its users.
"MONTERO (Call Me By Your Name)" also became very popular and controversial because of the app. TikTok users even used the platform to talk about how the music video to this song was disrespectful to some religious beliefs. Others said was a great hit. And many kids of Gen Z made TikTok clips joking about how they are trying to get to heaven but are interrupted by witnessing Lil Nas X swinging down the famous pole he used in his music video. Those specific videos were also recognized and posted on his TikTok account.
With all of this, you can see that TikTok is the app that everyone goes to find entertainment. There are so many different videos and sounds out there. Including sounds to songs, you may have never heard of before.
Since COVID-19 quarantining started and even now I spend a lot of my free time on TikTok, which led me to find new songs and artists to listen to such as Mxmtoon.
Even Mxmtoon's song "Prom Dress" became a huge hit when more people started to discover it on TikTok back in March of 2020, and it had its own set of TikTok trends.
Users of the app like participating in these trends that help them feel connected with their favorite musical artists. And it is a fun way to see people globally all doing the same thing.
With the amount of boredom and need for distractions from hardships during the pandemic, TikTok has had a huge impact in popularizing songs recently and has become a powerhouse in musical promotion.
Leave a Comment
Donate to The Eagle's Eye
Your donation will support the student journalists of Akins High School. Your contribution will allow us to purchase equipment and cover our annual website hosting costs.
About the Contributor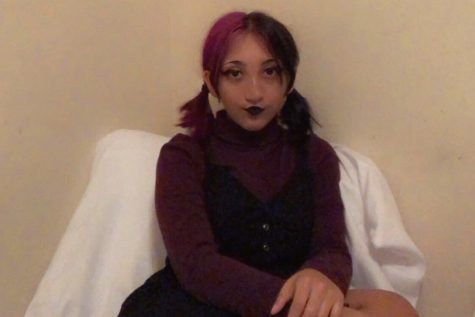 Anneliese Olivo, Entertainment Editor
Name: Anneliese Olivo (Anna)

Grade: 12th

Academy: New Tech

Number of Years on Staff: 3

Title: Entertainment Editor

Why do you enjoy being on staff? I enjoy being on staff because of the people that I am surrounded by. They make me open up more and keep me motivated to work on the school newspaper.

What do you do for fun? I watch movies, design my own clothes, and listen to music.

What new hobbies, activities do since quarantining because of COVID? I have picked up skateboarding; I mostly just cruise but am trying to learn a few tricks. I have also picked up designing my own clothes into items that fit my lifestyle and fashion taste.

Hopes & Dreams? I hope to attend college after I graduate to study journalism and become some type of journalist.