Austin, Akins community celebrate Dia de los Muertos
That's Mexican Halloween, right?
This is the question people who celebrate Dia de Los Muertos often get from those who are not familiar with a dearly practiced tradition.
"Dia de Los Muertos isn't Mexican Halloween," sophomore Alexandria San Miguel said. "It's a celebration of life and family."
this misconception of a holiday and a culture so rich in history and dripping in the atmosphere is why this story needs to be told. Dia de Los Muertos may coincide with Halloween, but they are two very different holidays.
Dia de Los Muertos finds its origins in pre-Columbian culture, in which it occupied a whole month on the Aztec calendar. is month-long festival was originally in August and was meant to celebrate and honor their goddess of death La Calavera Catarina and their ancestors with offerings, sacrifices, and games. Every part of that month was meant to give thanks to ancestors who came before. When the Spanish arrived and introduced Catholicism to the indigenous people, the festival intertwined with All Hallows Eve, All Souls Day, and All Saints Day, taking on an entirely new meaning. Ofrendas were soon introduced, changing the methodology behind the worship and creating the mythos that we know today.
All Hallows Eve, which falls on Oct. 31, marks the beginning of the three-day festivities.
"We make our altars and put everything together for
the visiting spirits," San Miguel said. Altars or ofrendas are either constructed in the home or on the grave of the family member and serve as a "landing point" for visiting family.
All Souls Day or Dia de Los Inocentes is the day of the children. e spirits of the children come first and enjoy the offerings left on the altars for them. e day is spent honoring and spending time with Los Angelitos, those aged 13 and younger.
All Saints Day is the finale and the biggest party of the three days, featuring lit candles, marigolds petals scattered around and reworks. e living and dead alike feast and drink to their heart's content. the border between the land of the living and the dead drops for one night and the party is like no other. Junior Asusena Cruz said the holiday is important because it makes death easier to process.
"They might be gone, but they live on in our memories," Cruz said.
is unique take on death is where the importance of this lies culturally. Everything from the ofrendas to the marigolds to the Calaveras (short mocking epitaphs and sugar skulls) and Muertos (the sweet bread of the dead) plays a part.
In Austin, the Mexicarte Museum on Congress Avenue puts on an annual parade and displays a gallery of local Chicano and Tejano art for Dia de Los Muertos. Admission is free and people are encouraged to dress up and participate.
"Dia de Los Muertos is a very important holiday, especially now that a lot more people understand it with the new movie Coco coming out," sophomore Marissa Almaraz said.
About the Contributor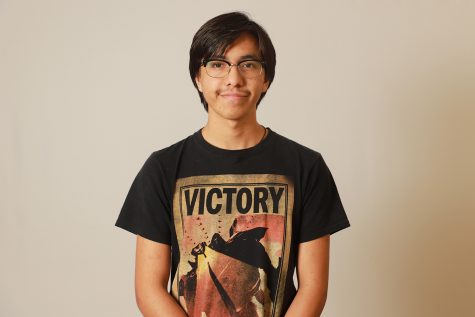 Diego Gutierrez, Sports Editor
Name: Diego Gutierrez

Grade: 12

Academy: Social Services

Year on Staff: 2nd

Title: Sports Editor

Why are you on staff? I joined the staff cause I needed something to do and I stayed because of the crew.

What do you do for fun? Lots of things, gaming to reading to photography to playing music or anything I fancy at the moment.

What movie do you recommend that everyone watch? I think everyone should see Jack Black's School of Rock and Bill Murray and Harold Ramis' Stripes.

Plans for after high school? Vibe

Instagram handle: @g_osa111