Musician expresses herself through song
Taylor Fish doesn't spend her weekends like most of her peers. While most students Fish's age spend their weekends going out to eat with friends, or hanging out at home, she patiently waits for the open mic night host at Strange Brew Lounge to call her name.
Strange Brew Lounge, located on Manchaca Road is very popular among Austinites, college students, and musical artists eager to perform and have their talents heard in front of a small, but supportive group. Open mic night started there in December last year but its audience is growing quickly.
"Taylor has been singing since she was three or four years old," said Jeffrey Fish, Taylor's father said. "She started out singing Disney songs, and I also remember her and her sister singing along to every song on High School Musical."
Fish, who has been performing at Strange Brew for about a month, says she feels at home on the stage performing her solo acts.
"Every week that I'm there there's always a bunch of people that come up to me and they tell me that they like my voice and it's such a great feeling," Taylor Fish said.
"I think our open mic is pretty special because there is such a wide range of people and genres of music, and the performers stick around and support each other," booking manager Kacy Crowley said. "Our open mic is only about a month old and already I am seeing friendships and collaborations beginning. To me it is all about finding your artist community."
Fish's father said he didn't know what her future holds.
"I just want her to enjoy her music and never lose the love of creating a beautiful song that others can appreciate," he said.
Performing at Strange Brew has brought her talents to the attention of other more experienced musicians who have expressed interest in performing with her.
"We found out about open mic night by chance when we went out for a coffee one night, and Taylor immediately decided to participate," Avery Fish, Taylor's older sister said. "It's been great watching her build relationships with other wonderful musicians while she grows as an artist, branching out Strange Brew to other venues around Austin."
Taylor's family is very supportive in her interest as being a live performer and what could possibly be her future.
"Watching her perform is a great feeling for a dad and I know so many people are proud of her." Jeffery Fish said.
Taylor is booked to play at Harley Davidson on Saturday February 14th, along with other artists from Strange Brew.
About the Contributor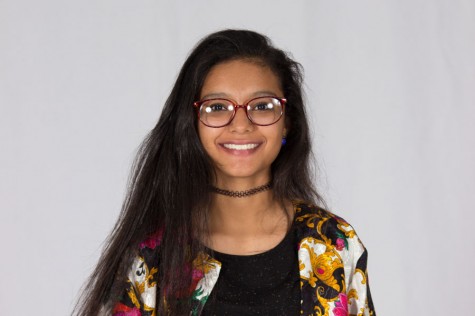 Sarah Luna, Student Life Editor
Grade:12
Academy: Social Services
Year on Staff: 2
Why they are on staff? I Luv Newspaper + All That Jazz. Plus, I Want To Have Experience For The Major Newspaper World If That Ever Happens
What do you do for fun? I Like Making Music, Making Peanut Butter Cookies + Watching Daria
Plans for after high school? Who Knows
Hidden Talent: I'm Not Good At Anything