Interesting food trucks deliver creative new items
Churro Co.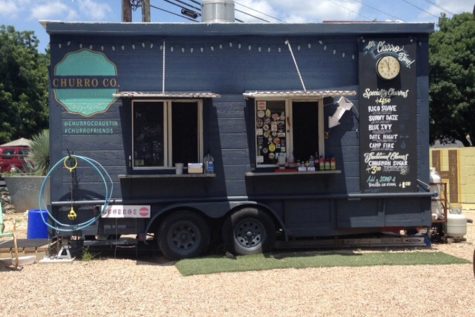 Churro Co. serves unique churros. Churro Co. is Food truck located at 1620 E. Riverside Drive. Churro Co. specializes in churros, the Mexican crispy fried dessert treat covered in brown sugar and cinnamon. It offers almost every kind imaginable ranging from the traditional to the outrageous with lots of toppings and flavors.
If you want to go the traditional way, you can get a regular churro for $3 plus 50 cents if you want to add a dipping sauce. If you want to taste the best of the best,
they're going to cost you $4.50 For just one dollar more who wouldn't to upgrade? e best churro in my opinion is the "Camp Fire." is churro is topped with graham sugar, toasted marshmallow, Mexican chocolate sauce, and whipped cream.
But there's still al ot of other options and combinations. For example the "Date Night" churro is the perfect dessert to share with that special someone in your life. It is churro is topped with popcorn sugar, Salted caramel, and a scoop of delicious Amy's vanilla ice cream. Another good dessert is the Texas Comfort.
This churro is topped with cardamom sugar, apple pie filling, caramel sauce, and whipped cream. There's plenty more types of churros. It's nearly impossible to leave this churro truck with out being satisfied.
This is a place in Austin that everyone should visit. they're really fast on getting your order too. Churro Co. is  a must-try, believe me. I don't always eat churros, but when I do, I prefer Churro Co.
Arlo's Food truck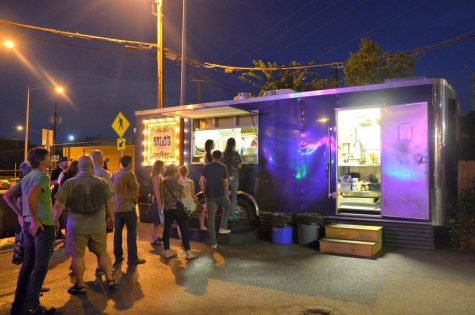 Arlo's is also a food truck located at 900 Red River St. in downtown Austin. Arlo's is known for their vegan fast food style, including burgers, fries, tacos, and chips and salsa.
their most famous dish is the Bac'n Cheeze Burger. This burger is made up from house- made soy free & gluten free patty, stacked with house-made seitan bac'n, melted cheeze ( that's what the owners call their cheese), mayo, ketchup, mustard, tomatoes, onions, pickles, and lettuce. this delicious burger will cost you $8, but if you want the combo you will have to put in a little bit more money. the burger is definitely worth the price. BBQ Burger is another good option.
is burger is made from a House-made soy free and gluten free patty, grilled in BBQ suace, chipotle mayo, tomatoes, onions, pickles, and lettuce. is is burger is really good also. And if you want add their "special sauce."
they're special sauce is truly a especial sauce. the flavor that it adds
to the burger makes it one-hundred times better than without the sauce. they also have a house made lemonade which is really good, they're also going to come out with a new "vegan" dish, which supposedly is going to be their best dish to date.
Arlo's has definitely changed the vegan game. For all you vegans out there, this is the spot for you. e people are really friendly; they make you feel like family. And if you're really nice to them, they might hook you up with an extra side of fries or tots.
Level Up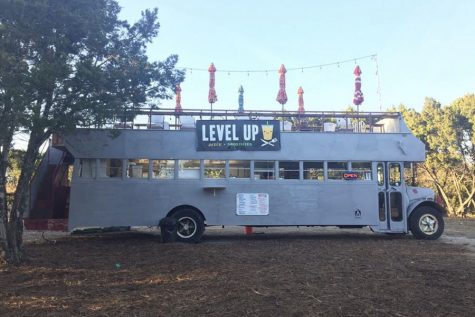 Level Up is a two story truck that serves delicious drinks.
Level Up is a two-story food truck that serves delicious juices and smoothies in South Austin just north of Akins at 7800 S First St.
It boasts the status as being the only double-decker food truck in Austin. Who wouldn't want fresh juices and smoothies from a colorful, decked out bus? is place is perfect for any type of occasion.
It's perfect for a relaxing night, a hang-out spot with friends, or a romantic date. The bus is not the only good thing here. their beverages are out-of-this-world. You might think they're a bit too expensive starting at $5, ranging up to $7, but if you have the money it's definitely worth it.
The Pika Juice is one of their most famous offerings. The juice is made up of pineapple and orange juice, and you can add mint for free. Their most famous smoothie is the A little too Raph. This is a simple smoothie but it's really delicious. It is smoothie is made up of raspberries, strawberries, and watermelon.
They also serve healthier drinks, tho they will cost you an extra two dollars. They're most famous (green) juice is the "Emerald Hill" smoothie. It's made up of mango, banana, pine- apple, spinach, and kale. For an extra two dollars you can't go wrong with a healthier choice.
About the Photographer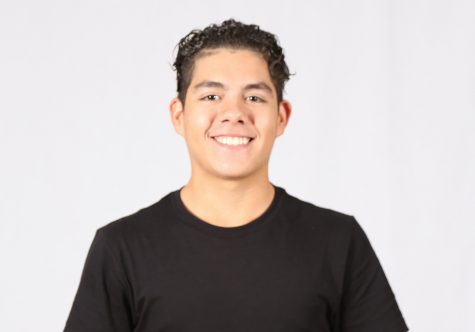 Sergio Hernandez, Staff Writer
Name: Sergio Hernandez
Grade: 12
Academy: New Tech
Year on Staff: 1st

Title: Staff Writer
Why they are on staff? I'm new.
What do you do for fun?...