Big moments in the 2010s at Akins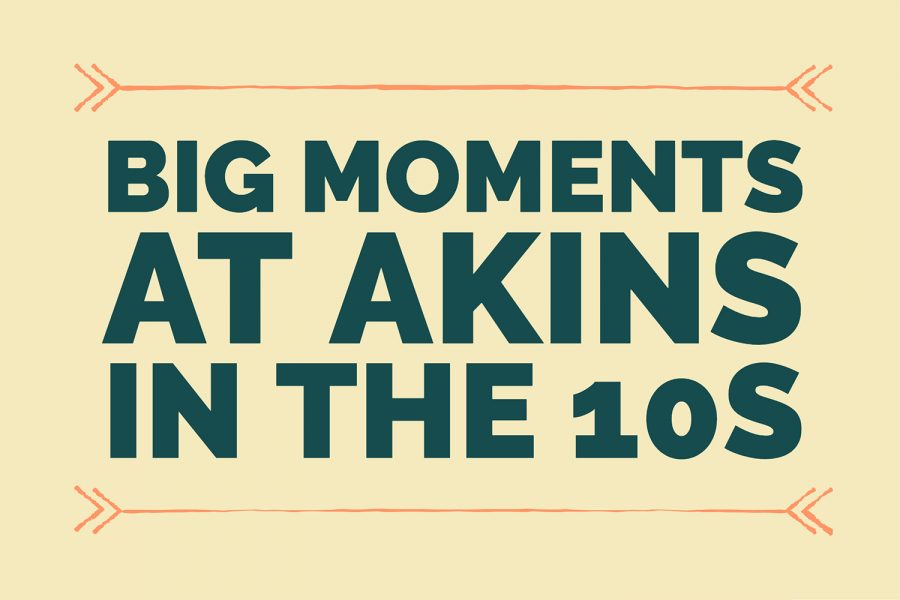 2010
STEM academy opens  
In 2010, the Science, Technology, Engineering, and Math Academy opened, offering students new elective courses focusing on biomedical science, aerospace engineering, and robotics. Akins had offered some of these classes before the opening of the academy, but it was not formally recognized by the state as a STEM program until 2010. The STEM wing of the school o opened to students in October 2010.
2011
Fiesta Akins
Latinos Unidos is an organization whose sole purpose is to bring all diverse Latin cultures together. It is an ethnic orientated club that brings students together with Hispanic backgrounds. Akins hosted its first Fiesta Akins event in May 2011. It featured a Hispanic Heritage Program and many Cinco De May themed performances by members of Latinos Unidos. The event was the first large-scale celebration of Hispanic culture at Akins.
2012
Austin Corps program begins
Students interested in learning about civics and city government enrolled for the first time in the Austin Corps internship program. Students learned about the inner workings of various city departments and were able to meet officials including Austin Mayor Lee Leffingwell.
2013
Akins students take STAAR test for the first time
During the spring semester, Akins sophomores and freshmen took the STAAR test for the first time after the previous state-mandated exam called the Texas Assessment of Knowledge and Skills was phased out. 
Young Life Christian group founded for Akins
A non-denominational Christian group called Young Life.began meeting in March 2013. The group is part of a national organization that has chapters in schools across the country.
School offers truancy location tracker system to students
Students were given the chance to use a location tracking system to avoid having authorities file truancy charges on them. With the devices, students checked in whenever they leave from home, arrive to school, after lunch, leaving school, and then when they come back home by a designated curfew. The device was also enabled to receive a wake-up call.
Many students homes flooded
On Oct. 31, the day after heavy rainfall hit Austin, the neighborhoods of Onion Creek, Bluff Springs, as well as many other neighborhoods were torn apart as the heavy rainfall caused flooding. The flooding caused students and their families to lose their belongings, cars, and even their homes. This natural disaster affected many students on campus.
2014
Students participate in first Akins science fair
The first science fair in the school's history recently gave students from various backgrounds across campus to show off how they apply the scientific method in an assortment of career fields.
The Career and Technology Education department took the lead in organizing and conducting the science fair, which featured 60 projects with topics ranging from perfume's effect on men's blood pressure to rocket propulsion to effective study habits. The top winners from the school fair will advance to the Austin Energy Regional Science Festival.
District looks for a new superintendent
After five years of leading the Austin Independent school district, Superintendent Dr. Meria Carstarphen decided to take a job as chief of the Atlanta Public Schools.
Dr. Carstarphen has left a huge impact in the lives of parents, students, and faculty in the AISD district, according to a statement released by school board president Vincent Torres.
Principal Daniel Girard announces departure from Akins
Principal Daniel Girard announced today that he will be leaving Akins High School over the winter break, ending his eight-year tenure as the school's top leader.
Girard has accepted a position to work for the Southern Regional Educational Board based out of Atlanta. He will serve as the director of school improvement for the organization and oversee work in North Carolina, South Carolina, Georgia, and Florida.
2015
Brandi Hosack begins as interim principal
Brandi Hosack is taking charge at Akins High School since the resignation of former principal Daniel Girard in early January.
Students and parents were notified over the winter break of Girard's resignation through a letter that was sent to the homes of many.
Hosack, who was the New Tech Academy director, is now the interim principal while the school district conducts a search to find a permanent principal for the campus. Hosack has served in various roles at Akins before being named interim principal, including as a science teacher and assistant principal of the Social Services Academy.
Hosack named as permanent principal
After a long four-month search for a new official principal for Akins High School, Brandi Hosack was appointed Monday by the Austin school board. Hosack was the school's interim principal from January 2015 until April 2015. She has worked at Akins for 11 years now. She briefly taught at another school as a Biology teacher. "I could not be more proud, thrilled and more honored and I did start at this school as a student teacher," Hosack said during a Tuesday morning meeting.
Wheelchair Challenge
Dozens of Akins students participated in a Wheelchair Challenge, allowing students the chance to experience what it is like to spend a whole school day in a wheelchair. The event is also a way to raise funds to pay for motorized doors to be installed around campus to help students who use wheelchairs.
The campus goal is to raise $30,000 to install five motorized automatic doors. The event is a spin-off of a similar campaign that happened in Austin High School last year that raised $90,000 and installed motorized doors at five locations across that campus. The campaign at Austin High was organized by Austin High student Archer Hadley, who uses a wheelchair and lives with cerebral palsy.
2016
SEL classes start for all freshmen
Administrators at Akins are hitting the reset button when it comes to how Social Emotional Learning is taught.
The Social-Emotional Learning (SEL) curriculum has been mostly limited to brief talks and activities with advisory teachers, leaving some to feel that it wasn't enough.
Principal Brandi Hosack pushed for the campus to change the way it offered SEL lessons to students and oversaw a series of meetings with teachers that created the new required course for all freshmen.
District provides breakfast to improve food accessibility
The Breakfast-in-the-Classroom initiative started to expand food access to students, reduce tardiness and improve academic performance.
The program served 1,100 to 1,280 meals each day, said Roland Cortez, Akins food service manager. More than 57 percent of the students in Austin ISD qualify for free or reduced-price meals. One out of every four children in Travis Country live in food-insecure households according to district statistics. is means many students rely on school meals for their nutrition.
2017
Restorative Justice program becomes a model for other campuses
Students can be referred to the Restorative Center by a teacher going to the Restorative Center, and telling a staff member about a student they're having ongoing troubles with. Even though some people were skeptical at first, Principal Brandi Hosack pushed to start the program last year. She said the program has helped administrators and teachers rethink how they address behavior problems across the campus.
Students walk out of class for peaceful protest
More than 100 students walked out of classrooms a little after 4 p.m. on Wednesday, marching around the campus to show their opposition to the agenda of President Donald Trump.
Four days before the protest, an anonymous student first presented the idea of staging a walkout using a Twitter account with the handle @AkinsProtest, suggesting that it take place on Feb. 1 during 4th period. Students spread word of the protest on social media and were told to meet up in the courtyard. They were encouraged to bring signs and asked that participants keep it peaceful and "spread love and compassion."
Campus community mourns death, celebrates the life of W. Charles Akins, school namesake
Dr. Charles Akins, "a true legend and trailblazer" according to Austin ISD trustee Paul Saldaña, passed away Wednesday morning, March 29, 2017.
Dr. Akins served in Austin ISD for more than 50 years as an educator and administrator. He is especially known for overseeing the integration efforts at L.C. Anderson High School in the 1970s in which students from African-American neighborhoods were bussed to a new high school in a predominantly white neighborhood. In the late 1990s, the school board voted to name a new high school built in South Austin after him, giving the school students attend here his name.
District initiative provides students personal computers
As part of the district's "Everyone:1" initiative rollout, Akins and four other high schools were provided with personal Chromebooks at the beginning of the school year in August.
Administrators and teachers are hoping that the new laptops will have a transformative effect on the lives of students and improve on their college and career readiness skills. Principal Brandi Hosack said she was proud that the district was able to provide each Akins student with laptops this year.
A+ Federal Credit Union gives students jobs
The new on-campus branch of the A+ Federal Credit Union opened its doors for the very first time in August 2017, giving three students the opportunity to work as interns. Just like any other job they had to apply in order to get the job.
Akins is the first high school in Austin ISD to have a bank branch located on campus, giving students here a unique learning experience in a working job environment.
The credit union is opening up accounts for students and teachers. Account holders and the school receive 10 cents whenever the A+ debit cards are used. A+ also plans to give presentations to students to educate them in the benefits of having a bank account and how to effectively manage their money.
Austin ISD introduces new online classroom connection tool
Austin ISD launched a learning management system called  BLEND. Akins teachers are currently being trained to use the system. BLEND is adapted from LMS Canvas, which is commonly used at universities. However, administrators in the district's Technology Integration office say that this system will do much more than the typical LMS, and that's why they are calling it a Learning Positioning System.
BLEND gives students access to a calendar of their assignments for every class and allows teachers to design assignments in new ways that allows them to aid student learning more effectively.
2018
Akins campus experiences a security lockdown
The first announcement for a reverse evacuation came on over the intercom around 9:30 a.m.
A reverse evacuation means that nobody was allowed to leave their classrooms. Teachers were told to lock their doors and remain on standby.
Soon after, another announcement was made by Principal Brandi Hosack, everyone was told to remain calm and go into full lockdown.
What then followed were many questions and very few answers. As students followed procedures, they contacted each other to try and piece together what was going on.
Hosack leaves position as principal
Principal Brandi Hosack announced after school on April 27th to the Akins faculty that she would be leaving after the end of the school year to become the new principal at North Forney High School in Forney ISD, east of Dallas.
"The opportunity to move and be near family is the ultimate driver of this decision but it is bittersweet, at best, to leave the school family I have known and loved for the last 14 years," she wrote in a letter to the Akins community.
Associate Superintendent Craig Shapiro addressed the faculty, saying that Hosack was "irreplaceable," but that he would work hard to find a worthy successor.
Austin ISD Board appoints Tina Salazar as Akins principal
The Austin ISD school board voted to appoint Tina Salazar as the permanent principal of Akins High School. Salazar served as interim principal following former principal Brandi Hosack's departure from her position at the end of last year. In addition to serving as interim principal, Salazar was an assistant principal for the Social Services Academy and English department head chair.
2019
City announces meeting to discuss Old San Antonio Road closure
In late March, the City of Austin's Watershed Protection Department announced the proposal to close the section of Old San Antonio Road that includes a low-water crossing near Southpark Meadows. City officials believe this will reduce flood risks at this dangerous creek crossing.
The department reports that up to 16 feet of water could potentially pass over the roadway during heavy rain downpours. Since 2013, there have been five flood-related incidents at this spot, putting drivers,  passengers and emergency responders at risk.
The project team explored other options but recommends the permanent closure based upon cost, constructability and effectiveness.
AISD plans to reform its dress code for the first time since 2007
After more than 600 people submitted a petition to reform the Austin ISD dress code, the school board is set to vote on a series of changes at its June 17 meeting.
Members of a group called Austin Families for Common Sense School Dress Code collected the signatures to make the student dress rules more inclusive and less discriminatory towards specific races, genders, "or any aspect of an individual's identity."
The dress code was last updated in 2007 and many students have complained that is sexist and focuses more on female dress.
New district program brings free lunches to students
Free for all students.
That was the exciting news that students received at the beginning of the school year, regarding cafeteria meals.
Akins, like many other Austin ISD schools, has a high percentage of students from low-income households, many might otherwise go hungry if they didn't have access to free lunches.
To address this problem, Austin ISD officials applied for Akins to be added to the list of schools on the Community Eligibility Program (CEP), which is designed to improve healthy choices in meals for students and local kids. This program doesn't just give kids and teens a healthy lunch. It also reduces the burden for families with overwhelming paperwork that might prevent students from getting the lunches they need.
About the Writer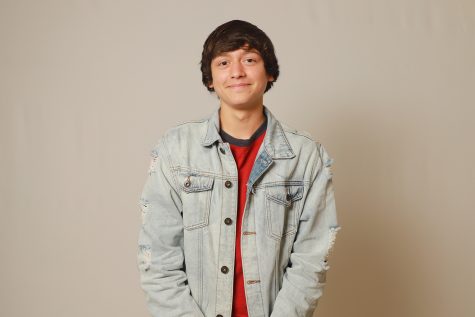 Kayden Harnett, Staff Writer
Grade: 10th

Academy: Green Tech

Year on Staff: First year

Title: Staff writer

Why they are on staff? I wanted to try something new

What...