Student shares what she misses about school
'I feel like a prisoner in my own home'
Like nearly all other high school students, the COVID-19 outbreak and the resulting spread of the COVID-19 disease, has canceled or postponed many events that I was looking forward to enjoying this year.
One of these events is AkinsTHON, a student-led group that works in collaboration with UT Austin to raise awareness and funds for Dell Children's Medical Center of Central Texas, which is a Children's Miracle Network Hospital that serves a 46-county area. For the entirety of the school year, a group of peers and I have stayed after school for countless hours to plan this event. It's a six-hour dance marathon with other activities, like performances from Akins Ballet Folklorico and the Dare-to-Dream dance group. Initially, the date for AkinsTHON was set for March 27\; however, the future date remains uncertain. It saddens me to my core that this event will not happen as planned, not for the hard work that we've put into organizing it, but for the kids that it would have benefited.
Covid-19 has significantly changed the way I live. I'm usually always out doing something. Now, I feel like a prisoner in my own home, staring at these four blank walls that would stay silent even if they could talk. Most places are closed and my mom is wary about me visiting my friends' homes, so I often find myself feeling jailed. Most importantly, my life as a student that loves to go to school has been notably altered. The fact that school has shifted to distance learning brings me great sorrow as I long to see my friends, teachers, and participate in extracurriculars. Although I know that learning doesn't have to stop just because we're not in buildings, we all know that it's not the same high school experience that many, including myself, were hoping to have.
During this time, the way I communicate with my friends is slightly different. To stay in touch, I use apps like Snapchat and Instagram. However, when I would like to actively talk with them, I use FaceTime to video call. One feature that I like about utilizing FaceTime is that several people are able to be added to one call. We FaceTime for hours at a time in an effort to make up the time that we've lost. Rather than the term 'social distancing,' I prefer 'physical distancing' because I am still able to be social online. Thanks to this modern luxury, we are able to stay social, sane, and safe.
I am definitely concerned about many other matters, predominantly academics. I love to learn, so it's alarming to hear that we may not get to learn new things. I'm also not sure about how I'll get to accept my college credit through OnRamps as I know many college students are reverting to pass/fail, but this new system is confusing about if I'll still get to accept my letter grade as is. Lastly, with the stay-at-home order expiring, I'm uneasy about the possibility of the virus spreading at an even faster rate, which may cause an even longer quarantine.
In every darkness, there is a sliver of light. There are numerous positives that I see from this experience. Currently, this gives people time off to recuperate and practice self-care. Even though things aren't looking up in the present moment, there are far more positives in terms of the future. People will be more mindful of hygiene such as washing hands, staying home when sick, and covering their mouths when coughing/sneezing. I also think this will also allow teenagers to truly appreciate going to school and not take it for granted. Teleworking will help with carbon emissions and preparedness for future crises. Additionally, there's the positive of more focus on having financial stability because people now see the importance of having an emergency fund and limiting debt to guard for unforeseen circumstances like this.
The Covid-19 pandemic has greatly affected my life as a high school student. There are both positives and negatives from this experience, but ultimately, I believe it's a wake-up call. We should learn from this for the sake of the pandemic and other unexpected scenarios.
About the Contributor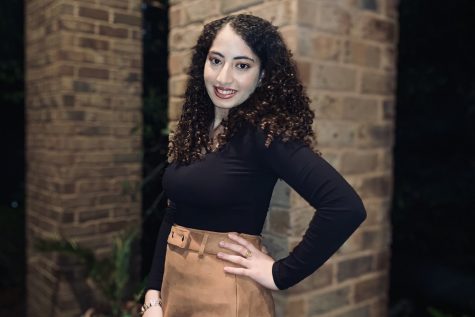 Heba Dalu, In-Depth Editor
Name: Heba Dalu

Grade: 11

Academy: STEM

Number of Years on Staff: 1

Title: In-Depth Editor

Why do you enjoy being on staff? I enjoy being on staff because I get to learn about new things and develop my graphic design skills.

What do you do for fun? I love to read, hike, and hang out with my friends. I'm also a curly hair enthusiast and social activist.

What new hobbies, activities do since quarantining because of COVID? I learned how to bake and diffuse curly hair.

Hopes & Dreams? I hope to travel the world and become trilingual.