Editorial: STAAR test must be canceled for fairness
When the pandemic forced school districts to close campuses last year and transition to remote instruction, state leaders grappled with the decision of whether to require students to take the state standardized tests known as the STAAR. Considering that this happened in March, it didn't take them long to realize that it would be a bad idea, and the STAAR exam was officially canceled for the first time since the state began requiring students to take and pass a standardized exam.
The Eagle's Eye believes that the STAAR exam should be canceled this year — and perhaps permanently — because of the many harmful outcomes that could result if state leaders insist on putting schools and students through an in-person and fundamentally-flawed standardized test.
Aside from obvious safety reasons, many people in 2020 believed it would produce inaccurate measures of students' learning given students' varying levels of access to instruction while away from the classroom.
As we now approach the traditional STAAR testing season the TEA Commissioner Mike Morath has decided students have adapted well enough to the new learning environment of a global pandemic that we should put them through the additional stress of a STAAR exam in-person at the campuses that so many have made great sacrifices to avoid attending out of fear of catching and spreading COVID-19.
The decision to require students this year to not only undergo standardized testing but also do so in-person highlights two things: Morath and other state leaders are grossly unaware of inequities facing students and teachers in Texas, and secondly they value "data accountability" over children's lives.
Even before the pandemic hit schools, there was a growing body of evidence that standardized tests like the STAAR are fundamentally flawed and biased toward wealthier schools and students. When you add the additional burdens of remote learning and COVID-19-related safety precautions — and all of the resulting strains placed on students — the idea that taking the STAAR this year is worth doing despite all of the physical harm, mental anguish, and biased data that it will produce is laughable if it wasn't so sad and disastrous for school communities.
Here's just a few questions that should be answered before considering a standardized test this year.
1. How do schools provide an adequate virtual education to students who don't have access to a stable wifi connection? You can't. Even if schools put all the information out to families, and answered every email received from students, their efforts will still not be enough.
2. How do schools adequately prepare students for the STAAR if they also have to take care of younger siblings or help earn money to provide for their families? They can't.
These inequities stared us in the face long before the realities of COVID-19 made them painfully obvious.
If the state requires students to take the STAAR this year, all of the assistance, resources, and flexibility that the state has provided schools this year is no better than putting lipstick on a pig the state had sentenced to slaughter.
Learning looks different right now. Even if the STAAR test was an equitable assessment of students, it isn't one designed to fit the world students live in now. Kids have done their best to piece together their education with tape and glue often without direct access to a teacher to check for understanding and assist them when they struggle to learn a new concept.
During this time period, we could take advantage of the better ways to assess educational gaps and alternative assessments to STAAR. Cramming information into students all year and then telling them to "show what you know" on a 30-page booklet isn't going to cut it anymore. Instead of STAAR, we could do project-based assessments that allow students to connect the material that was covered in class to the real world.
For example, instead of taking an algebra STAAR, students could use the linear functions to model and determine which cell phone plan is the most economical. Not only will this eliminate all of the stress and anxiety that comes with standardized testing, but this will also prepare students for life beyond grade school. Additionally, students will be inspired to chase knowledge, rather than their grades or a "commended" score on a standardized test. At the end of the day, knowledge is power.
We seriously doubt that Morath, Gov. Abbott, or any other state leaders will be volunteering to proctor the STAAR this spring in a room filled with 9-year-olds who haven't seen each other since March of 2020.
Imagine sitting in a room for four hours, hoping and praying you don't contract the virus or spread it to your loved ones at home all because the state leaders are obsessed with having "data" that they can use to show how public schools are "failing" students.
We are tired of seeing this game being played with the lives, educations, and mental health of students in Texas. Let's not deny that we are all living through a crisis of epic proportions. We demand that state leaders cancel the STAAR so that schools can redirect the time and effort spent on this pointless and harmful exercise to helping students cope with their frequently dire mental health needs brought on by months of isolation, sickness, and financial strain.
Leave a Comment
Donate to The Eagle's Eye
Your donation will support the student journalists of Akins High School. Your contribution will allow us to purchase equipment and cover our annual website hosting costs.
About the Contributor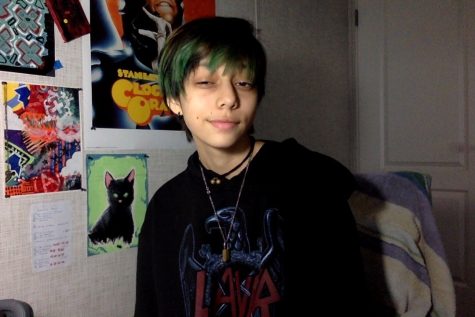 Ash Catalan, Graphics Editor
Name: Ash Catalan

Grade: 12

Academy: New Tech

Number of Years on Staff: 3

Title: Graphics Editor

Why do you enjoy being on staff? I get to practice my drawing skills, and explore how to convey themes and ideas through art.

What do you do for fun? I create paintings, digital art, and play video games during my free time.

What new hobbies, activities do since quarantining because of COVID? I haven't developed any new hobbies, but I have been cooking new stuff a lot more at home and practicing cooking techniques, and bothering my beautiful cat a lot more.

Hopes & Dreams? To make a living through freelance art, doing tattoo work, and, in general, be able to do what I'm passionate about without losing the drive and be stable.

Instagram handle: @ireallyhateash


Other Socials: https://linktr.ee/ashkat