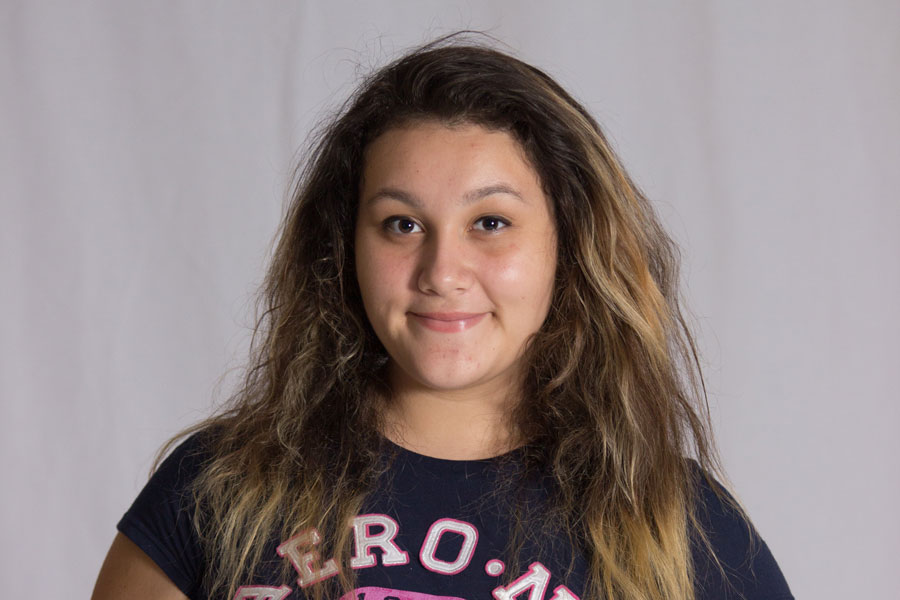 Grade: 10th
Academy: Social Services
Year on Staff/Title: 1st Year staff writer
Why they are on staff? I joined the newspaper staff because I enjoy writing and decided to try something new.
What do you do for fun? For fun I listen to music, talk to friends, and make plans.
Plans for after high school? After high school I plan to go back to my hometown, Las Vegas, NV, and attend UNLV to pursue a medical profession.
Hidden Talent: I can sing & wiggle my ears.
Stephanie Valle, Staff Reporter
May 25, 2017

Graduate Goodbyes from The Eagle's Eye – 2017

(Story)

May 03, 2017

Winterguard excels despite absence of guard director

(Story)

Mar 14, 2017

The Student Support Services office is an underutilized resource

(Story)

Jan 27, 2017

Disney challenges its normal style with diversity

(Story)

Dec 19, 2016

Blue and Gold Night

(Media)

Nov 18, 2016

Favorite memories shared by graduating players

(Media)

Oct 20, 2016

Principal Hosack answers questions about recent clown threats on social media

(Story)

Oct 08, 2016
Jun 08, 2016

The Class of 2016 soars on as graduates walk the stage

(Story)

May 25, 2016

School funding system wrong

(Story)

Nov 20, 2015

New Restorative Justice program resolves conflict

(Story/Media)

Oct 30, 2015

The Weeknd is at the highest peak of his career

(Story)

Oct 16, 2015

The Weekend is at the highest peak of his career

(Story)

May 26, 2015

Student ranks near the top at national BPA contest

(Media)

May 26, 2015

New organization seeks 'geeky' students for activities

(Story/Media)

Apr 27, 2015

GIS technology, mapping classes added for next year

(Story)

Feb 12, 2015

Hosack new interim leader

(Story)

Feb 10, 2015

Akins sophomore wins poetry contest

(Story)

Jan 16, 2015

Colorguard team expands, transitions to winter season

(Story)

Jan 16, 2015

Pep rallies should not stop when football season ends

(Story)

Jan 01, 2015

Cell phone ban to start January

(Story)

Nov 19, 2014

New Season Shocks, Surprises Fans Of American Horror Story

(Story)

Nov 19, 2014

HST teacher leaves students

(Story)