A suspenseful start to a new season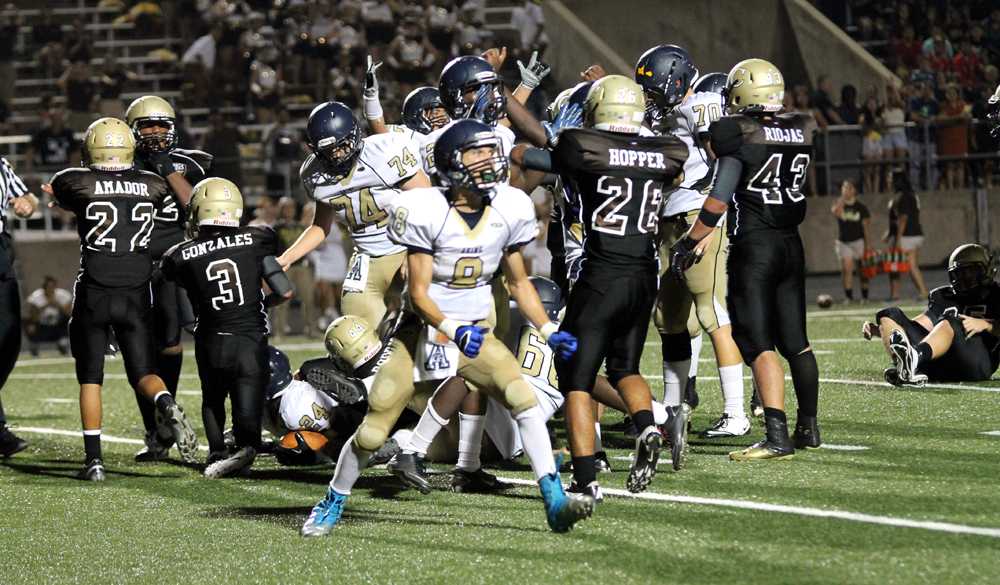 On Thursday, August 29th, 2013 the Akins Varsity football team faced the Crockett Cougars  in the season opener.
The Eagles came out with an 18-0 lead with 8:13 left in the first half with the help of seniors Teddy Lowery (Halfback), Josue Cartagena (Kicker), and sophomore Jermaine Thomas (Wide Reciever). However, the lead quickly slipped away from the Eagles as Crockett gained momentum resulting in a 23-18 Cougar lead. With time running out quickly, the Eagles put together a last minute drive that had the crowd at the edge of their seats. With 46 seconds remaining in the fourth quarter, Lowery battled his way through defenders just enough to clear the goal line resulting in a 26-23 Eagle lead after a successful two point conversion. As the Cougars regained possession with less than 40 seconds remaining, their last hope of victory slipped away as Lowery sealed the deal with his third interception of the night.
The Eagle's next game will be Friday, September 6, 2013 at 7:30PM against the McCallum Knights at Burger Stadium.