Timmons takes over varsity boys soccer
Coach brings new perspective to Akins soccer
JJ Mendiola, Sports Editor
January 22, 2019
Hang on for a minute...we're trying to find some more stories you might like.
The Boys Varsity Soccer team has undergone one of the biggest changes in its history as it adjusts to the new leadership of its second coach since the school opened in 2000.
Social studies teacher Chad Timmons took over the team after the end of the varsity team's season, replacing former head coach Bob Williams who had led the team since the opening of the school in 2000. It's the first time for Timmons to serve as a varsity coach although he has had years of experience as a player and a coach.
Timmons, who has played soccer since he was ve years old, played for his high school team and for a men's league while he was in college. Timmons also served as a JV soccer coach at An- Anderson High School before he transferred to Akins.
He said one of his biggest challenges as a new coach has been creating structures and systems to hold players accountable.
"I'm trying to encourage them to hold each other accountable but also build it up in a way that they believe that we can win," he said.
Timmons said the team has already improved "leaps and bounds" since when he started leading practices after the end of the last season.
"Last year it was sort of guys would show up when they want- ed to. And they did they wouldn't be consistent with bringing their gear," he said. " is the year we tried to put some pretty strict rules in place. If you miss a workout, you make it up. If you don't, you only have so many chances to bring your stuff before I'm going to move you out of the class because you're not committed to the process."
Senior Brian Medina said he appreciates Timmons serious approach and his dedication to the team. He said he has noticed the team members stepping up and showing their increased commitment in turn.
"It was the nonstop thing. It started the last o season and it hasn't ended even through the summer we were putting a lot of hard work in," he said. "It all to lead us to this season and so far it is paying off."
Timmons said he has been putting in his own time preparing for the season by going to clinics, earning new coaching credentials and planning practices.
"I spend a lot of time and thought about what we're doing, what's working, what's not working on my own," he said. "I've told all these boys yesterday I'm my worst critic when I screw up. I think about it for a long time and I reflect a lot.
Senior Jason Guevara said the players have been showing up every day ready and prepared for Timmons workouts and drills because they know it will improve them for when their games start in late December.
"We literally train every day that is how much coach wants us to succeed," Guevara said. "We know we are gonna have to put in the work but we are willing to put our hearts into this program."
Winning first place in the district play is a common goal across the team after the team fell just short of that accomplishment last year. However, Timmons said he wants the team to stay focused on the fundamentals to help them accomplish their goals.
"There are so many things that are beyond our control," he said. "A ref could make a bad call that could blow a game for us. Half the team could catch the flu. There are just things that you can't control. But what we can control is we show up every day. We're up on time. We're committed to the process. We put in the work and those things that we can control will help get us there."
If the team can develop the right mindset and stay committed all the way through the season, Timmons said that will be the winning combination it needs to be successful. Timmons said as a coach he doesn't want to have any regrets at the end of the season.
"I don't want to look back on this season with the talent that we have this year, and think I could have done more I should have done this di recently," he said. "I want to look back and say I did everything that I could as a coach to try and help these young men succeed."
Diego Cedillo contributed to this story.

About the Contributors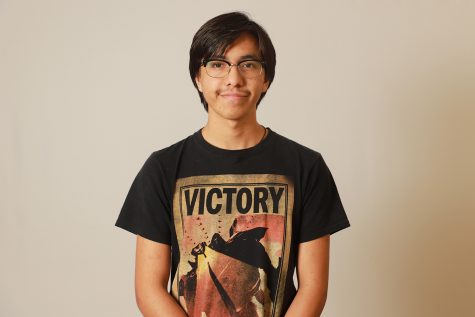 Diego Gutierrez, Sports Editor
Name: Diego Gutierrez

Grade: 12

Academy: Social Services

Year on Staff: 2nd

Title: Sports Editor

Why are you on staff? I joined the staff...