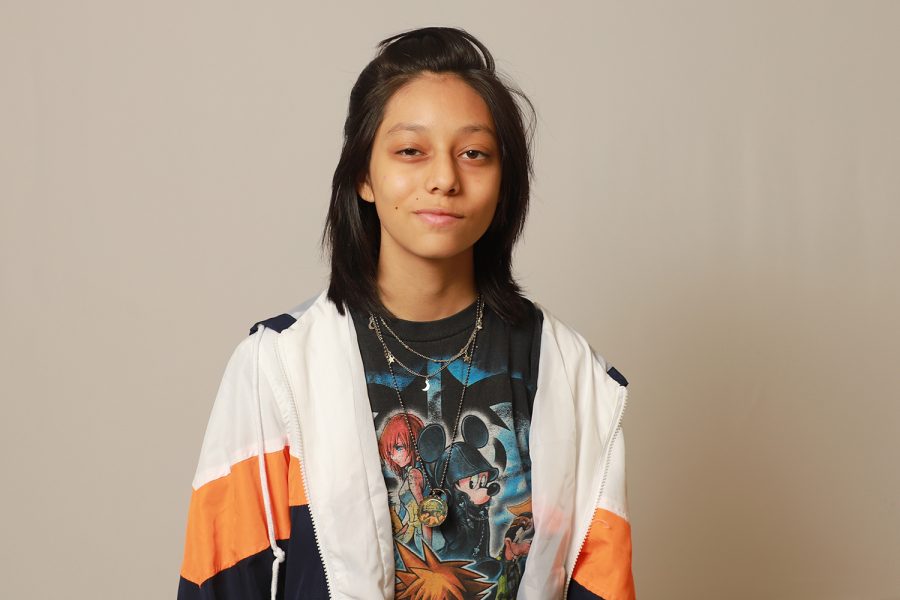 Name: Ash Catalan
Grade: 11
Academy: New Tech
Year on Staff: 2nd-year
Title: Co-Editor-in-Chief
Why are you on staff?: To create a newspaper that's visually engaging and inform students on real issues and news from the student perspective.
What do you do for fun? I draw and sell art in my own free time. I also play a lot of Zelda.
What movie do you recommend that everyone watch? The Art of Self Defense. It's the greatest movie I have ever laid eyes upon.
Plans for after high school?: Tattoo apprentice and selling art. College isn't my thing so far.
Instagram handle:
@ireallyhateash
Ash Catalan, Co-Editor-in-Chief
Mar 04, 2020

D&D enjoys a revival with new online,YouTube videos

(Story/Media)

Feb 25, 2020

Teachers should abandon the 100-point grading scale

(Media)

Feb 25, 2020

The NFL needs to intervene with referees missed calls

(Media)

Feb 25, 2020

Transgender students face unique school experiences

(Media)

Feb 25, 2020

Some district monitoring is sufficient for student use

(Media)

Feb 18, 2020

Basketball icon leaves behind a legacy of compassion

(Media)

Feb 18, 2020

Graduation conflict upsets seniors, parents & schools staff

(Media)

Feb 04, 2020

In-Person drivers class is better

(Story)

Dec 19, 2019

Editorial: Teens should make an effort to be heard

(Media)

Nov 19, 2019

District needs to provide more training to help LGBTQ students

(Media)

Nov 19, 2019

Austin isn't boring, you just need to search some more

(Media)

Sep 26, 2019

The Eagle's Eye: Spooky Stumpers

(Story)

Jun 06, 2019

Photo Gallery: Graduation Ceremony 2019

(Story)

May 24, 2019

E-girl fashion develops into lifestyle from online jokes

(Media)

May 23, 2019

Memorable Akin sports moments and achievements

(Media)

May 23, 2019

Frozen to Transfers

(Media)

Apr 26, 2019

Exchange students compare Austin to home countries

(Media)

Apr 18, 2019

Got vax? Austin ISD sees increase in use of religious, philosophical vaccination exemptions

(Media)

Apr 18, 2019

Economic status can create educational gap

(Media)

Mar 14, 2019

Pop-punk bands grow, work to maintain popularity as fans age

(Media)

Feb 28, 2019

School finance reform is needed in legislative session

(Media)

Feb 22, 2019

Editorial: Magnet programs are exclusive, inequitable

(Media)

Feb 22, 2019

Vaping THC oil on campus creates legal consequences

(Media)

Feb 22, 2019

Anthem excites fans with open world discovery

(Media)

Feb 22, 2019

Students need to do research on all advanced courses

(Media)

Jan 28, 2019

Budget Crunch: State forced cuts could lead to crowded conditions

(Media)

Jan 25, 2019

Moments in Chicago

(Media)

Jan 21, 2019

Legislation needed to protect student press

(Media)

Dec 13, 2018

Latest edition of Fallout is a total let down

(Media)

Dec 11, 2018

Akins players debate if they have the right to protest

(Media)

Nov 27, 2018

State should pick up the tab to pay for required testing

(Media)

Nov 08, 2018

Administration, students disagree on parking permit fees

(Media)

Sep 18, 2018

Akins Eagles Vs. Crockett Cougars Football game

(Media)